Mitsui & Co. (Asia Pacific) Pte. Ltd.
Our Business
Mineral & Metal Resources
Business Fields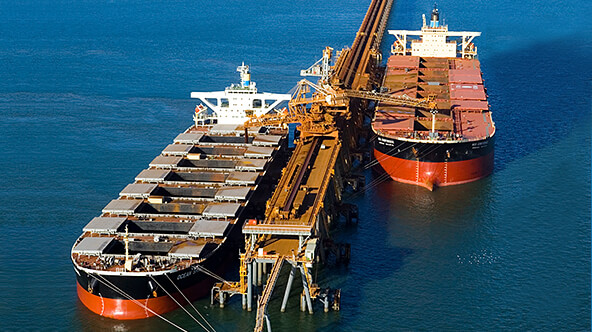 Iron ore, coal, steel scrap, pig iron, HBI (hot briquetted iron), ferroalloys, copper, bauxite, alumina, aluminum, nickel (Ni ore, NPI, FeNi, Ni ingot), zinc, lead, tin, cobalt, rare metals, titanium, non-ferrous metal products, non-ferrous scrap, stainless steel scrap, secondary aluminum ingot, metal recycling and environmental solutions, etc.
Major Activities
The Mineral & Metal Resources Business Division endeavors to ensure stable supplies of mineral and metal resources for Japan and other markets around the world. We have been actively investing in the development of iron ore and coal resources since the 1960s and continue to play a role in securing stable supplies. We continue to expand our iron ore business with Rio Tinto and BHP Billiton in Australia, and our equity production tonnage of iron ore was about 48 million tons in fiscal year 2012. We have partnered with Anglo American, Rio Tinto and BHP Billiton in Australia for investments in coal projects such as Dawson, South Walker Creek and Kestrel coal mines.
We have also been actively focusing on increasing our investments in non-ferrous metals. In the Philippines, operation of the Coral Bay Nickel project is running well, and the Taganito HPAL nickel project is scheduled to fully launch commercial production during October — December 2013. In New Caledonia, operations of VNC nickel project have commenced.
We also contribute to the stable supply of steel scrap, pig iron and other ferrous raw materials, including ferro-alloys such as manganese, silicon and chromium, all of which are essential for steel making. We also actively deal with non-ferrous scrap, such as copper, aluminum and stainless steel as well as non-ferrous metals and products.
In 2007, in order to strengthen our recycling business, we acquired a stake in Sims, the world's leading metal recycler.