Mitsui & Co. (Taiwan), Ltd.
About Us
Corporate Profile
Mitsui & Co. (Taiwan), Ltd. ~Creating Sustainable Futures~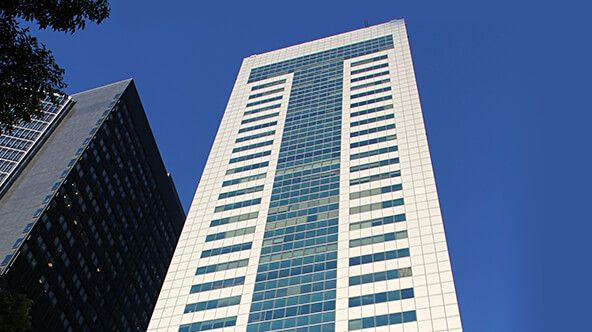 Our parent company, Mitsui & Co., Ltd., currently maintains 127 offices in 63 countries around the world (As of April 1, 2023), with more than 46,000 employees working in the Mitsui group (As of March 31, 2023). With its multitalented asset of employees who constantly bring new changes to the company, Mitsui & Co., Ltd. wishes to utilize its global abilities and network, to continuously challenge and create new social values. The Mitsui & Co., Ltd. corporate mission is to fulfill the aspirations of those living on this precious Earth while the company aims to become a global business enabler that can meet the needs of its customers throughout the world.
The current Mitsui & Co., Ltd. established the Taipei Office in Taiwan in 1952. As time went by, the present Mitsui & Co. (Taiwan), Ltd. has become a wholly owned local subsidiary of Mitsui & Co., Ltd. with a head office in Taipei and other offices in Hsinchu and Kaohsiung.
With our long history and traditions, Mitsui & Co. (Taiwan), Ltd. has accumulated a wealth of experience in extended fields and gained trust from our customers. We have diverse business segments, including Metal, Chemicals, Energy, Machinery, Infrastructure, Foodstuff, and Consumer Service which provide domestic, import, export and off-shore trading services. Furthermore, we have built close partnerships with influential Taiwanese corporations to open up overseas markets.
While upholding the spirit of fairness and humility, and under sound corporate governance, Mitsui & Co. (Taiwan), Ltd. will continue to respond to the trust society has bestowed upon us with genuineness. We truly appreciate the support from our customers, and are looking forward to enhancing our relationship.
Mitsui & Co. (Taiwan), Ltd.
Date of Establishment
Taiwan Branch:1952
Present Corporation: May 4, 1990
Address

21st Fl, No.97, SEC. 2, Tun Hua S. Rd.
Taipei, Taiwan
Telephone: (886-2) 2326-2543
Facsimile: (886-2) 2326-2691
URL: https://www.mitsui.com/tw/en/

Roadmap
Representative

Chairman & CEO: Tomofumi Osaki

Capital
NT$ 600,000,000
Staffs
135
(as of April 01, 2023)
Offices Location
3 (Taipei, Hsinchu, Kaohsiung)
Mitsui & Co. (Taiwan) Ltd., Kaohsiung Office
Address

14th Fl., C Room, Cathay Life Chung Cheng Bldg.
No.2, Chung Cheng 3 Road, Kaohsiung, 80027, Taiwan


Roadmap
Mitsui & Co. (Taiwan) Ltd., Hsinchu Office
| | |
| --- | --- |
| Address | 6F.-1, No.32, Gaotie 2nd Rd., Zhubei City, Hsinchu County 302, Taiwan |
| Roadmap | |