Mitsui & Co. Korea Ltd.
Our Business
Basic Chemicals
We, consisting of 3 departments such as Petrochemicals Dept., Industrial Chemicals Dept., and Chlor-Alkali Dept., deal with a variety of chemical products from upstream to mid-stream products, while playing an important role for Mitsui's global operation and its handling volume reached 3 million metric tons in 2010. We are aggressively engaged in developing new businesses with Korean chemical companies as well as exporting/importing chemical products. We, as a key division in Mitsui Korea, have grown along with the development of Korean chemical industry tightening its grip on the Korean market for all chemicals groups, based on long-term business know-how, best logistic service, and good customer relationship with many leading chemical companies in Korea.
Business fields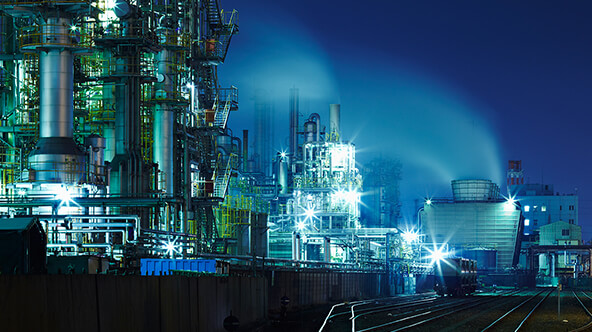 Olefin, Aromatics, Synthetic Fiber raw materials, Chlor-Alkali products, Phenol chain, Urethane raw materials, Specialty chemicals, Solvents, etc.
Major activities
Global Operation & Enlargement of Korean domestic business


Recently, we are making efforts to expand Mitsui Korea's own business not only for export/import but domestic transactions, based current businesses in Korea under Mitsui's global operation.

Various Business styles & Services


We're also trying our best to meet customers' needs in various ways such as offshore business and domestic distribution by securing lots of tanks at Ulsan, the logistics hub in Northeast Asia.

Reinforce of Logistics service and Development of new investment topic


Having geographical advantage near China and competitive logistic infrastructure, Basic Chemicals Div. will keep focusing on expanding existing logistics business and development of new business models by strengthening partnership with major chemical companies in Korea, who are recently aggressive to overseas direct investment as well as export business.