Mitsui & Co., Ltd. ("Mitsui", Head Office: Tokyo, President and CEO: Kenichi Hori) has been selected by the Japan Aerospace Exploration Agency ("JAXA", Head Office: Tokyo, President: Hiroshi Yamakawa) as an implementation company for conducting a concept study of a Japanese module to be connected to a US commercial space station. Considering the importance of Low Earth Orbit ("LEO") activities after the retirement of the International Space Station ("ISS"), which is scheduled for around 2030 ("post-ISS era"), Mitsui will conduct a feasibility study on the business of owning and operating a Japanese module that will be the successor to the "Kibo" Japanese Experimental Module on the ISS ("ISS Kibo"). In collaboration with various partner companies, Mitsui will conduct a study on the commercialization of a Japanese module based on a plan to partially renovate and develop the new unmanned spacecraft ("HTV-X"), which will have necessary technology and function required for a Japanese module. Specifically, the study will encompass such tasks as defining the specifications of the module, setting a schedule, carrying out risk analyses, estimating costs, and building a framework for project implementation.
In the Basic Plan on Space Policy formally decided in June 2023, the Japanese government explicitly describes the importance of identifying private sector needs by utilizing the ISS Kibo, as well as what the policy should be concerning Japan's possible involvement in the post-ISS era. Mitsui has been contributing to the increased utilization of the ISS Kibo through its provision of the cubesat deployment services from the ISS Kibo*1. In the fiscal year ended March 2023, Mitsui conducted a feasibility study for the "Sustainable Space Environment Utilization in LEO" led by JAXA, and proposed a strategy for how Japan will be involved in the post-ISS era to parties related to the Japanese space industry. By leveraging the knowledge and expertise accumulated in its LEO-related activities, Mitsui will take the lead in this endeavor.
In addition to this project, Mitsui will create new application utilizing the ISS and the Japanese module, and pursue collaboration with U.S. commercial space station development companies. In this manner, Mitsui will support the establishment of an economic zone in the LEO by leveraging Japan's technology and knowledge, as well as the realization of Japan's space strategy, and will contribute to the creation of a prosperous society.
*1 The commercial rights related to this business were transferred to Mitsui Bussan Aerospace Co., Ltd. in 2019.
Example of partner companies in Japan
| Company Name | Main Role |
| --- | --- |
| Astroscale Japan Inc. | Study of on-orbit services business |
| DigitalBlast, Inc. | Study of a government requirement, market research |
| ElevationSpace Inc. | Study of sample return services business |
| IHI AEROSPACE Co., Ltd. | Technical evaluation of the Japanese Module (Partial) |
| Japan Manned Space Systems Corporation | Study of an operation concept |
| Mitsubishi Electric Corporation | Technical evaluation of the Japanese Module (Partial) |
| Mitsubishi Heavy Industries, Ltd. | Technical evaluation of the Japanese Module |
| Mitsui Bussan Aerospace Co., Ltd. | Study of a commercial requirement |
| Shiseido Company, Limited | Study of life science business |
| Space Compass Corporation | Study of communication system and on-orbit data center business |
| Tokio Marine & Nichido Fire Insurance Co., Ltd. | Advisory on identifying risks and designing insurance |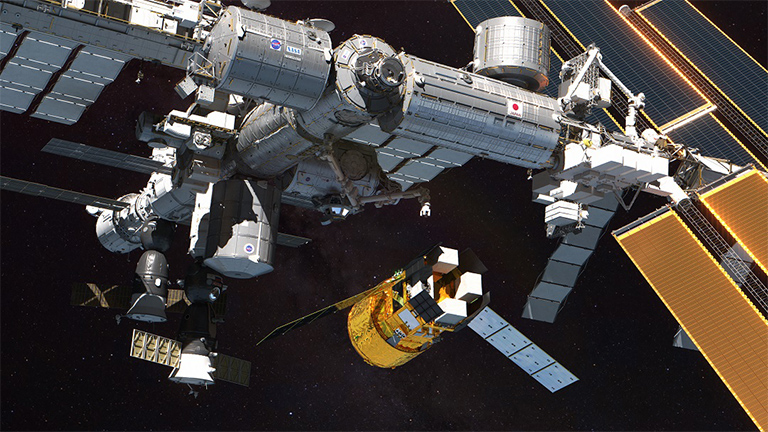 ---
Mitsui's Materiality
"Build brighter futures, everywhere" as our corporate mission, and to gain the trust and expectations of our stakeholders to realize a better tomorrow for earth and for people around the world, we have identified five material issues ("Materiality") for Mitsui's sustainable growth. We anticipate this particular project/ business to contribute especially to the realization of "Enhance quality of life" and "Develop talent leading to value creation"
Secure sustainable supply of essential products

Enhance quality of life

Create an eco-friendly society

Develop talent leading to value creation

Build an organization with integrity