Mitsui & Co., Ltd. ("Mitsui", Head Office: Tokyo, President and CEO: Kenichi Hori) has reached an agreement to invest in Structural Technologies, LLC ("ST," Head Office: Maryland, U.S.A.), an infrastructure repair company which provides proprietary products, engineering support and contracting services, through SHO-BOND & MIT ("SB&M," Mitsui: 49%, SHO-BOND Holdings, Ltd.: 51%).
ST is a subsidiary of Structural Group, Inc. ("SGI", Head Office: Maryland, U.S.A.) which was founded in 1976 and is one of the largest civil infrastructure repair companies in the U.S. ST delivers value-added solutions to owners, engineers and contractors by developing and integrating unique products and engineering support with repair and construction services. ST is the exclusive supplier of VSL*1 post-tensioning and stay cable products in the U.S., and has an ongoing growth initiative in the transportation sector which supports its emerging partnership with SB&M.
As exemplified by the enactment of the Infrastructure Investment and Job Act, deterioration of infrastructure is becoming a serious social issue in the U.S. Demand to prolong the life of and strengthen the structural capacity of aging infrastructure, such as bridges, is expected to continue to grow especially in the age of decarbonation and circular economy. In particular, regarding bridges, it is estimated by the American Road & Transportation Builders Association that 36% of all U.S. bridges – nearly 224,000 bridges – require repair work or replacement and addressing this would cost $260 billion.
"We aim to solve the social issue of U.S. infrastructure deterioration and contribute to realization of circular economy and decarbonized society. As an alternative to the conventional scrap-and-build approach, we endeavor to redefine a way of using infrastructure by repairing and strengthening with leading industry partners from the U.S. and Japan," said Koichi Fujita, COO of Mitsui's Iron & Steel Products Business Unit.
Tatsuya Kishimoto, President of SHO-BOND Holdings said, "after years of intense exchange of technical information with SGI and ST and mutual visits to each company and jobsites, we have come to recognize each other's capabilities and found a shared commitment to quality and safety. This has led to my firm conviction that they are the ideal partners for us to entrust our expertise. With their and our leading technological capabilities, combined with Mitsui's business development expertise, we aim to cultivate a dynamic market in the U.S. together."
Through SB&M, Mitsui will assist ST in driving the continued expansion of ST's products and service offerings and growth in sales and profitability by leveraging its business development capabilities and networks. SHO-BOND will bring a wide range of proven repair, reinforcement and preventive maintenance technologies, utilizing 65 years of experience in Japan.
SGI's founder and CEO, Mr. Peter Emmons, said "thank you to Mitsui's leadership for helping to manifest this partnership with SHO-BOND. We are pleased to have SHO-BOND and Mitsui as part of the Structural Group family of companies and look forward to integrating innovative technologies into the U.S. infrastructure market and growing together."
Mitsui has promoted repair and maintenance business as it established SB&M with SHO-BOND Holdings in 2019 and entered the market in Thailand in 2020. Through this new partnership with SGI and ST, Mitsui will aim at helping to solve the social issue of aging infrastructure in the U.S. and contribute to creating an eco-friendly society.
*1 VSL International, a Swiss company, is a subsidiary of Bouygues Construction, a French limited liability company. VSL International is a specialist in the construction and repairs of post-tensioned and cable-stayed structures, foundations and ground engineering.
Company Profile
| | |
| --- | --- |
| Official name | Structural Group, Inc. |
| Head Office Location | Maryland, U.S.A. |
| Established | 1976 |
| Representative | Peter Emmons |
| Number of employees | Approx. 3,000 |
| Business Activities | Provision of products, engineering support and contracting services |
| Website | |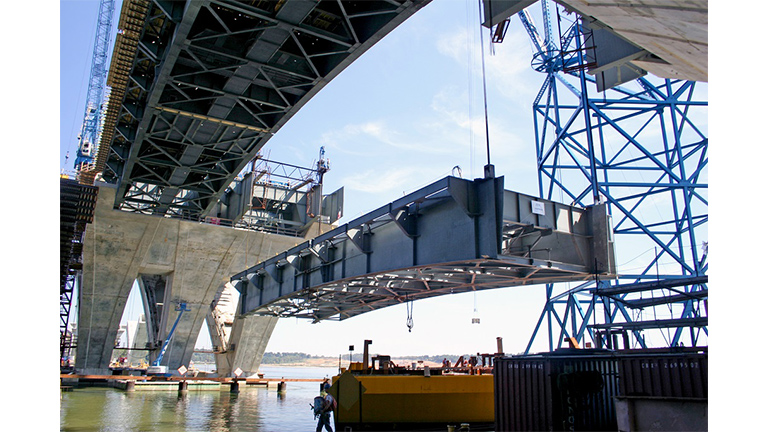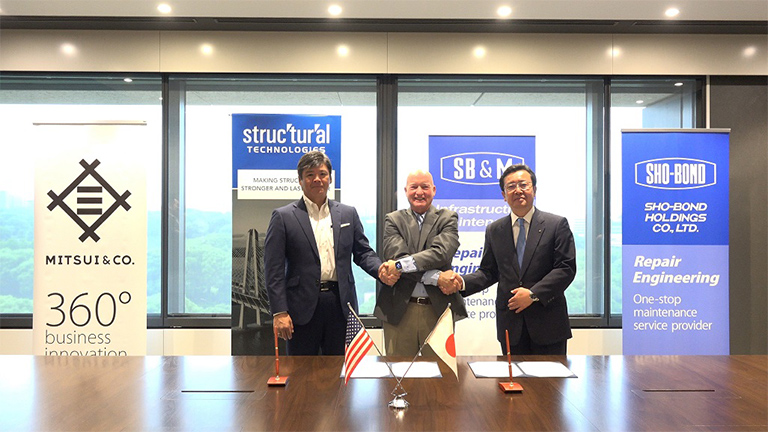 ---
Mitsui's Materiality
"Build brighter futures, everywhere" as our corporate mission, and to gain the trust and expectations of our stakeholders to realize a better tomorrow for earth and for people around the world, we have identified five material issues ("Materiality") for Mitsui's sustainable growth. We anticipate this particular project/ business to contribute especially to the realization of "Create an eco-friendly society"
Secure sustainable supply of essential products

Enhance quality of life

Create an eco-friendly society

Develop talent leading to value creation

Build an organization with integrity