Asahi Kasei Corp. (Head Office: Chiyoda-ku, Tokyo; President: Koshiro Kudo; hereinafter referred to as "Asahi Kasei") and Mitsui & Co., Ltd. (Head Office: Chiyoda-ku, Tokyo; President: Kenichi Hori; hereinafter referred to as "Mitsui") will establish a supply and procurement system for bio-methanol produced in the United States. Through this system, Asahi Kasei plans to use the bio-methanol procured from Mitsui to produce engineering plastics in Japan with a lower carbon footprint than the current product lineup.
1. Background
Today, companies are increasingly working to reduce GHG emissions throughout their product supply chains, including greenhouse gas (GHG) emissions from raw materials, known as Scope 3, in order to achieve carbon neutrality by 2050, as advocated by the Japanese government.
Asahi Kasei is working to reduce GHG emissions by manufacturing products using biomass-based materials with low GHG emissions in various engineering plastics such as Tenac™ polyacetal (POM) resin*1. In this context, Asahi Kasei and Mitsui have worked together to find solutions to these issues.
2. Content of the initiative
In the United States, Mitsui procures RNG (renewable natural gas) generated from municipal waste landfills in the form of biogas, and uses it in the mass-balance approach*2 to produce bio-methanol at Fairway Methanol, a local joint venture. Asahi Kasei and Mitsui have acquired the International Sustainability & Carbon Certification (ISCC PLUS certification) in their supply chains in order to reliably convey their sustainability features to final products.
This will enable Asahi Kasei to procure bio-methanol manufactured by Mitsui, and to sell various types of engineering plastics made with this raw material allocated using the mass-balance approach.
3. Future outlook
The Asahi Kasei Group aims to contribute to a carbon-neutral and sustainable world from the perspective of "Care for Earth" by focusing on initiatives such as the use of biomass raw materials, recycled raw materials, and renewable energy. The company strives to meet the expectations of its customers and society by further advancing the provision of products and services with such sustainable characteristics while deepening collaboration with other companies based on its medium-term management plan for fiscal 2024 focused on the theme "Be a Trailblazer."
Mitsui is striving to reduce the Scope 3 GHG emissions of its customers using the expertise, knowledge, and products of a variety of businesses, including the provision of low-carbon methanol such as bio-methanol, and to contribute to the sustainable development of all society.
*1 POM is the abbreviation of the chemical name polyoxymethylene. It is commonly called polyacetal resin. POM resins are engineering plastics with excellent sliding, toughness, and fatigue-resistance characteristics. They are crystalline thermoplastic resins. POM has a homopolymer that is polymerized only with monomeric formaldehyde and a copolymer that is polymerized from trioxane and contains oxyethylene units. Asahi Kasei is the only company in the world to produce both homopolymers of POM (Tenac™) and copolymers (Tenac™-C) through its proprietary technologies (according to "2023 Engineering Plastic Market Outlook and Global Strategy" report issued by Fuji Keizai).
*2 The mass balance approach allocates the production volume of products according to the percentage of the input biomass raw materials, etc., when the products are manufactured by blending biomass raw materials, etc., with fossil fuel-derived raw materials. It is a recognized control method stipulated in ISCC PLUS System documents.
Company Profile
Official name
Asahi Kasei Corp.
Head Office Location
Hibiya Mitsui Tower (TOKYO MIDTOWN HIBIYA)
1-1-2 Yurakucho, Chiyoda-ku, Tokyo 100-0006
Established
May 21, 1931
Representative
Koshiro Kudo, President & Representive Director
Number of employees
46,751
Business Activities
Asahi Kasei Corp. develops fiber products, chemicals, and electronic related materials based on its core chemistry technology, and globally pursues growth opportunities in the areas where it can leverage its technological advantages. In its holding company function, Asahi Kasei Corp. focuses on strategic planning and analysis, administration of resources, oversight of management execution, and development of new businesses, which extend beyond the scope of any single field of business.
Website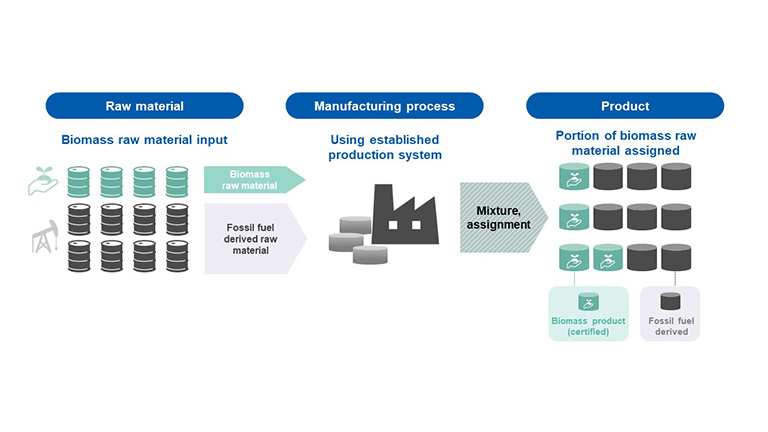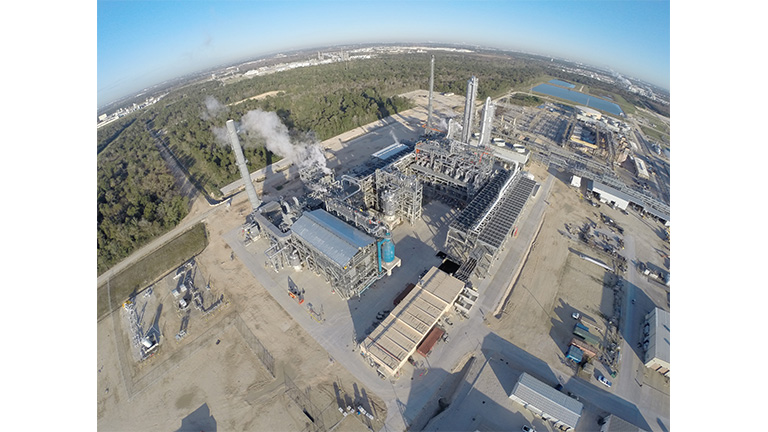 ---
Mitsui's Materiality
"Build brighter futures, everywhere" as our corporate mission, and to gain the trust and expectations of our stakeholders to realize a better tomorrow for earth and for people around the world, we have identified five material issues ("Materiality") for Mitsui's sustainable growth. We anticipate this particular project/ business to contribute especially to the realization of "Secure sustainable supply of essential products" and "Enhance quality of life" and "Create an eco-friendly society"
Secure sustainable supply of essential products

Enhance quality of life

Create an eco-friendly society

Develop talent leading to value creation

Build an organization with integrity