Mitsui & Co., Ltd. ("Mitsui", Head Office: Tokyo, President and CEO: Kenichi Hori), together with Chevron Renewable Energy Group, has invested in Optimus Technologies, Inc. ("Optimus" , Head Office: Pittsburgh, CEO: Colin Huwyler), a clean energy technology company. Optimus manufactures the Vector System, an advanced fuel system technology that enables diesel engines to operate on 100% biodiesel.
Optimus is developing, manufacturing, and selling the advanced bolt-on product that enables the use of biodiesel fuel ("BDF") in the 100%, unblended state. As a renewable, clean-burning replacement for traditional diesel, BDF is expected to contribute to decarbonization efforts. One of the biggest issues with BDF is that the use of higher percentage biodiesel blends can prompt malfunctions and breakdowns of internal combustion engines in vehicles due to the clogging of impurities in the fuel and corrosion. Optimus' product solves these problems in various ways, including the elimination of impurities, enabling the use of 100% BDF, and thereby making a significant contribution to the reduction of CO2 emissions. The product is also suitable for cold climates and allows vehicles to switch to diesel operation without significant modifications. These are advantages over battery electric trucks (BEVs) and hydrogen-fueled fuel cell electric trucks (FCEVs). In addition to this product, Optimus also offers comprehensive, all-in-one solutions designed to help customers achieve decarbonization as smoothly as possible, including telematics (online vehicle management support), CO2 reduction reporting, and biodiesel fuel station leasing.
Mitsui plans to work with Optimus to introduce the company's product not only in the United States but also in Japan and other overseas markets. Following trials with Japanese logistics firms and shippers, Mitsui will begin marketing 100% BDF and Optimus' system to logistics companies in the second half of 2023, with the target of installing it in 200 trucks by the end of 2025.
Mitsui has been developing businesses that will contribute to the creation of a decarbonized society, such as the BEV bus business. Through our work with Optimus, we will help to bring about the early realization of global decarbonization as part of our commitment to creating an eco-friendly society.
Company Profile
| | |
| --- | --- |
| Official name | Optimus Technologies, Inc. |
| Head Office Location | Pittsburgh, Pennsylvania in United States |
| Established | 2010 |
| Representative | Colin Huwyler CEO |
| Number of employees | 15 as of Jan/2023 |
| Business Activities | Manufacturing and sales of Vector system |
| Website | Optimus Technologies | Pittsburgh | Near-Zero Carbon Solutions |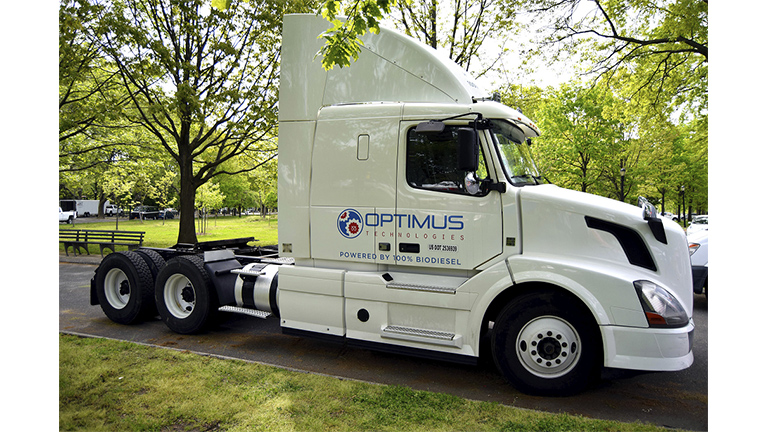 ---
Mitsui's Materiality
"Build brighter futures, everywhere" as our corporate mission, and to gain the trust and expectations of our stakeholders to realize a better tomorrow for earth and for people around the world, we have identified five material issues ("Materiality") for Mitsui's sustainable growth. We anticipate this particular project/ business to contribute especially to the realization of "Create an eco-friendly society"
Secure sustainable supply of essential products

Enhance quality of life

Create an eco-friendly society

Develop talent leading to value creation

Build an organization with integrity