Mitsui & Co., Ltd. ("Mitsui", Head Office: Tokyo, President and CEO: Kenichi Hori) today announced that it has signed a memorandum of understanding (MoU) on comprehensive cooperation for a low carbon dioxide ("CO2") iron metallics business with the Public Authority for Special Economic Zones and Free Zones("OPAZ"), and a Land Reservation Agreement with Port of Duqm Company SAOC("PODC"), along with Kobe Steel, Ltd. ("Kobe Steel"). OPAZ is an Omani authority that oversees the Special Economic Zone at Duqm and PODC is an Omani entity that operates the Port of Duqm.
Mitsui and Kobe Steel have also been in discussion with the Sultanate of Oman's Ministry of Energy and Minerals on detailed condition for natural gas supply.
Mitsui and Kobe Steel, which has a track record of constructing MIDREX® plants globally, have been jointly studying the possibility of establishing a low CO2 iron metallics production plant in the Special Economic Zone at Duqm, Sultanate of Oman.
The project is expected to produce five million tonnes of direct reduced iron ("DRI")* through the MIDREX®** Process. By using technically and commercially proven production method, Mitsui and Kobe Steel aim to provide a near-term decarbonization solution to the steelmaking industry. In the long run, the project will aim for further decarbonization through measures such as replacement of natural gas with hydrogen and carbon capture, utilization and storage (CCUS), with a goal to expand production capacity as well.
The Sultanate of Oman is a country rich in natural gas reserves necessary for producing DRI and is also one of the globally outstanding locations for renewable energy, making it a highly suitable area for competitive green hydrogen. Mitsui also has a trusting relationship with the Sultanate of Oman through existing businesses including oil & gas upstream investments, LNG projects, and IPP businesses.
Mitsui and Kobe Steel will conduct the detailed business study, with an aim to commence low CO2 iron metallics production by 2027. The products will be supplied to businesses in Asia including Kobe Steel and other global markets such as Europe.
Mitsui has set a goal of achieving net-zero emissions as its vision for 2050 and aims to halve its greenhouse gas ("GHG") impact by 2030 as compared to the level in the fiscal year ended March 2020. By combining Mitsui's global network and wide business capabilities in the metal resources and energy sector together with Kobe Steel's expertise in the steelmaking sector and key engineering technologies such as the MIDREX® Process, we will continue to contribute to the reduction of GHG emission within the steelmaking industry in hopes of achieving a carbon-neutral society.
*Direct Reduced Iron: Direct reduced iron is feed stock for steelmaking. DRI can be used in electric arc furnaces, blast furnaces, and basic oxygen furnace melt shops. Hot briquetted iron (HBI) is DRI in a compacted, briquetted form, which is suitable for long-distance transportation.
**The MIDREX® Process is the world's leading direct reduction ironmaking technology owned by Kobe Steel Ltd. and its wholly owned U.S. subsidiary, Midrex Technologies, Inc. The MIDREX® Process uses hydrogen-rich reformed gas made from natural gas to reduce iron ore, making its CO2 emission level lower than the conventional blast furnace route. MIDREX Plants currently produce more than 60% of the world's direct reduced iron.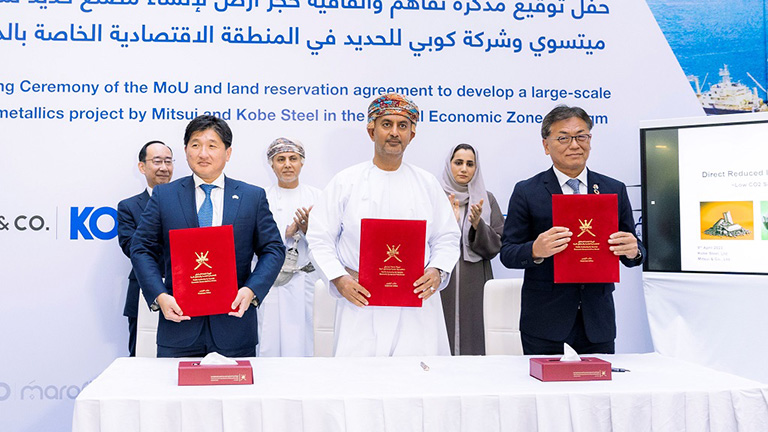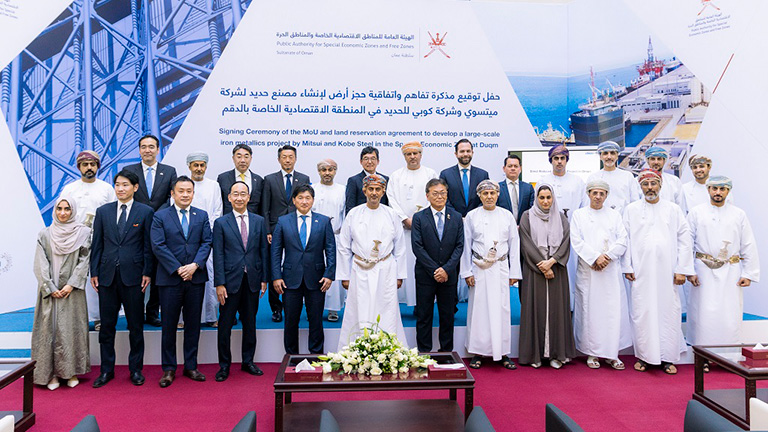 ---
Mitsui's Materiality
"Build brighter futures, everywhere" as our corporate mission, and to gain the trust and expectations of our stakeholders to realize a better tomorrow for earth and for people around the world, we have identified five material issues ("Materiality") for Mitsui's sustainable growth. We anticipate this particular project/ business to contribute especially to the realization of "Secure sustainable supply of essential products" and "Create an eco-friendly society"
Secure sustainable supply of essential products

Enhance quality of life

Create an eco-friendly society

Develop talent leading to value creation

Build an organization with integrity