TOKYO, October 13, 2022 — IHI Corporation, MOL Techno-Trade, Ltd., Furuno Electric Co., Ltd., ArkEdge Space Inc., TST Corporation, Japan Radio Co., Ltd. (JRC), Mitsui & Co., Ltd. and the Ocean Policy Research Institute (OPRI) of the Sasakawa Peace Foundation (SPF) have launched the Satellite VDES Consortium to support efforts to meet the growing demand for a more reliable and accessible infrastructure for digital communication at sea.
The inaugural meeting of the consortium was held on October 13, 2022, following the approval of the official rules and the appointment of chair and co-chairs. Mr. Akira SHISA (IHI Corporation) was assigned as chair of the consortium, Mr. Yoshihiro SANO (MOL Techno-Trade, Ltd.) and Mr. Ichiya OGINO (Furuno Electric Co., Ltd.) as co-chair, and OPRI as secretariat. The advice from several experts in related fields to this consortium was also confirmed.
Satellite VDES
The VHF Data Exchange System (VDES) is a revolutionary maritime digital communication system to construct a network connecting vessels at sea and ports. VDES can provide two-way communication and up to 32 times higher data rates than Automatic Identification System (AIS), the current system used to identify vessels for logistics and shipping management. Furthermore, VDES communication via satellite is expected to improve maritime safety and security on a global scale and support real-time navigation and communication.
Satellite VDES Consortium
The Satellite VDES Consortium aims to create a platform to facilitate the commercialization and promotion of Satellite VDES through partnerships between industry, academia, and government. The consortium's work is expected to enhance Japan's presence in the international maritime community and to accelerate digital transformation (DX) in the ocean sector. Activities will include discussions on the use-case and business model, on-site experiments of terrestrial VDES, and development of application services utilizing these satellites.
Conceptual image of Satellite VDES use-cases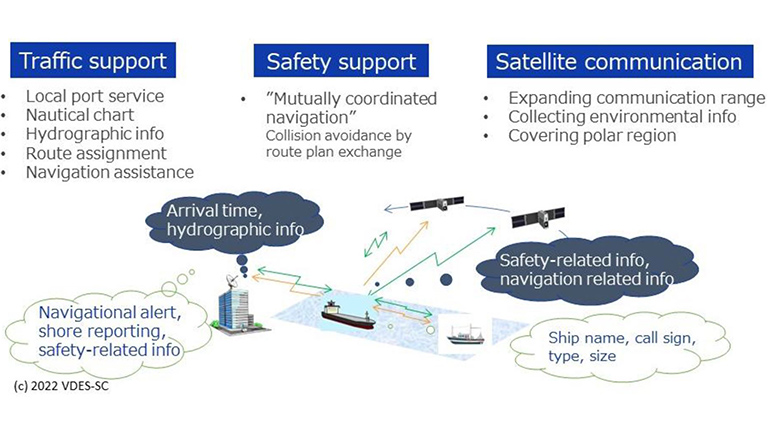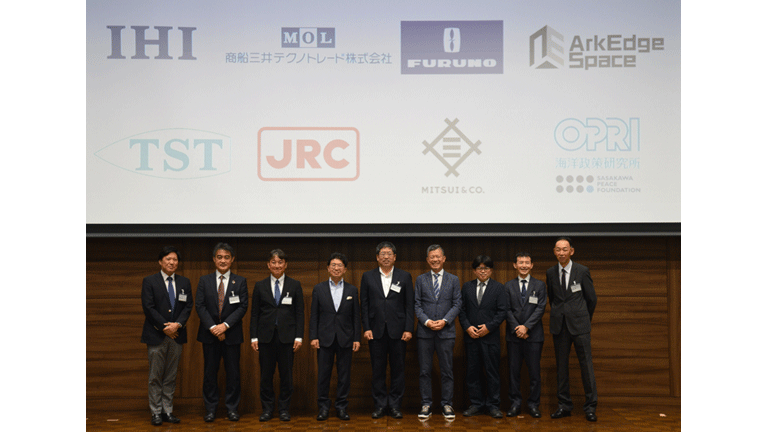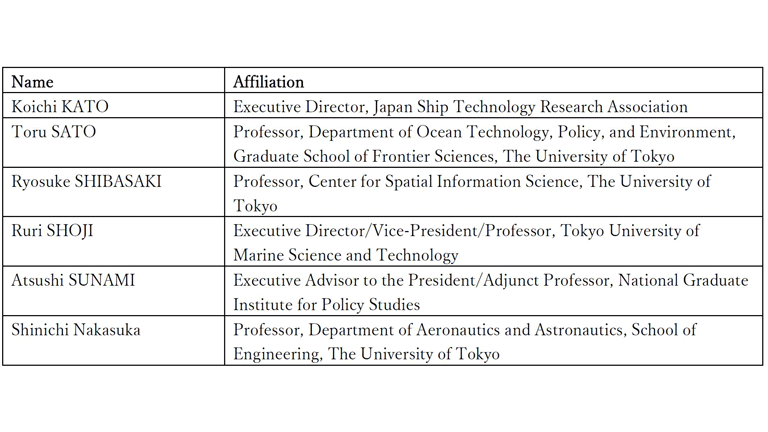 ---
Mitsui's Materiality
"Build brighter futures, everywhere" as our corporate mission, and to gain the trust and expectations of our stakeholders to realize a better tomorrow for earth and for people around the world, we have identified five material issues ("Materiality") for Mitsui's sustainable growth. We anticipate this particular project/ business to contribute especially to the realization of "Enhance quality of life" and "Build an organization with integrity"
Secure sustainable supply of essential products

Enhance quality of life

Create an eco-friendly society

Develop talent leading to value creation

Build an organization with integrity