Mitsui & Co., Ltd. ("Mitsui", Head Office: Chiyoda-ku, Tokyo, President and CEO: Kenichi Hori) signed a share purchase agreement on September 2nd, 2022 to acquire a 28% interest in the Yuri project, the industrial-scale renewable hydrogen projects, in the Pilbara region of Western Australia, by acquiring the said interest in the project, currently held by an Australian project company, which is wholly owned by a subsidiary of French energy major Engie S.A. ("Engie"), subject to the satisfaction of certain conditions under the investment agreement.
A joint venture between Engie and Mitsui will deploy a 10 MW electrolyzer powered by 18 MW of solar PV to generate and supply renewable hydrogen for an existing ammonia production facility owned by Yara Pilbara Fertiliser Pty Ltd ("YPF"), a wholly owned subsidiary of Yara International ASA, one of the largest producers of nitrogen-based mineral fertilizers on the globe. The Yuri project aims to complete its construction and start its production in 2024. YPF will use the renewable hydrogen as a zero-carbon feedstock for ammonia production.
Renewable hydrogen, which is produced from renewable energy, will play a pivotal role in industrial decarbonization and has significant potential as a clean energy source, as renewable hydrogen emits no CO2 in the production and burning process and can be used in various industries.
The Yuri project plans to obtain the support of the Australian Government through an AU$47.5 million grant from Australian Renewable Energy Agency's Renewable Hydrogen Deployment Funding Program and an AU$2 million grant from the Western Australian government.
Mitsui has set a goal of achieving net-zero emissions as its vision for 2050 and aims to halve its greenhouse gas ("GHG") impact by 2030 compared to the level of the fiscal year ended March 2020. Through the Yuri project, which supplies green hydrogen to existing ammonia plants, Mitsui will contribute to accelerating the upscale of the hydrogen industry in Australia and acquire knowledge and experience in project design related to the development and operation of renewable hydrogen production projects and hydrogen supply for industry. Furthermore, Mitsui will continue working toward the realization of a carbon neutral society and the creation of a society in harmony with the environment through its GHG reduction initiatives, including the Yuri project.
Company Profile
| | |
| --- | --- |
| Official name | Engie S.A. |
| Head Office Location | France |
| Established | 2008 |
| Representative | Catherine MacGregor |
| Number of employees | 101,500 |
| Business Activities | Power generation and supply of electricity and gas, etc. |
| Website | |
| | |
| --- | --- |
| Official name | Yara International ASA |
| Head Office Location | Norway |
| Established | 1905 |
| Representative | Svein Tore Holsether |
| Number of employees | 17,000 |
| Business Activities | Manufacture and sale of nitrogen fertilizers, etc. |
| Website | |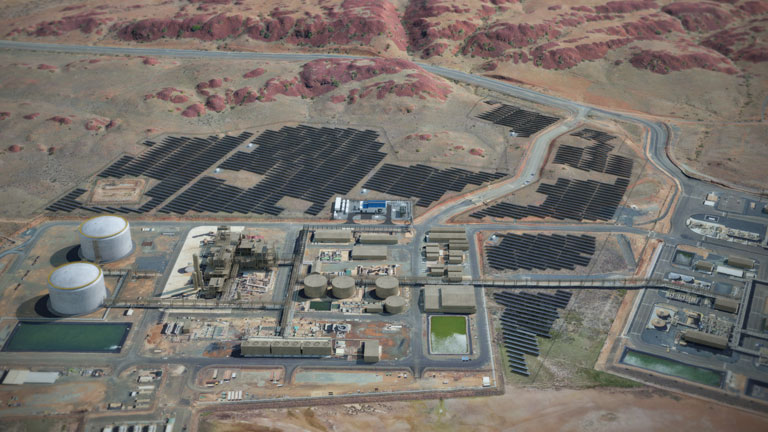 ---
Mitsui's Materiality
"Build brighter futures, everywhere" as our corporate mission, and to gain the trust and expectations of our stakeholders to realize a better tomorrow for earth and for people around the world, we have identified five material issues ("Materiality") for Mitsui's sustainable growth. We anticipate this particular project/ business to contribute especially to the realization of "Create an eco-friendly society"
Secure sustainable supply of essential products

Enhance quality of life

Create an eco-friendly society

Develop talent leading to value creation

Build an organization with integrity