Mitsui & Co., Ltd. ("Mitsui", Head Office: Tokyo, President and CEO: Kenichi Hori) has signed a share subscription agreement to acquire an interest in Xurya Pte Ltd. ("Xurya"), the parent company of the Indonesian distributed solar developer for C&I customers, PT Xurya Daya Indonesia, subject to the satisfaction of certain conditions under the share subscription agreement.
Indonesia has set a national goal of achieving carbon neutrality by 2060, and is also the chair country of the G20 in 2022. The country is promoting further decarbonization and the introduction of renewable energy. The C&I sector in Indonesia has one of the largest levels of electricity demand among the ASEAN countries. As the demand for electricity will continue to increase along with economic growth, distributed solar projects as a decarbonization solution are attracting a great deal of attention.
Since its founding in 2018, Xurya has engaged in the development of distributed solar assets for C&I customers, as a leading company in the distributed solar power domain in Indonesia. The company also provides operation and maintenance services for such assets. Xurya has a track record of installing distributed solar assets for more than 70 SMEs and large companies, such as textile and food manufacturers, including Japanese companies.
Mitsui aims to contributed to Xurya's growth and Indonesia's decarbonization and renewable energy development policies by leveraging its expertise in the distributed solar business cultivated in countries all over the world and its extensive networks in Indonesia. Through these efforts, Mitsui will contribute to the realization of an environmentally friendly society.
Company Profile
| | |
| --- | --- |
| Official name | PT Xurya Daya Indonesia |
| Head Office Location | Jakarta, Indonesia |
| Established | 2018 |
| Representative | GUSMANTARA EKAMUKTI HIMAWAN (Managing Director) |
| Number of employees | 80 |
| Business Activities | Development, sales of distributed solar projects and the energy management business |
| Website | |
| Others | Xurya Daya Indonesia is owned by the holding company Xurya Pte Ltd. (Xurya). |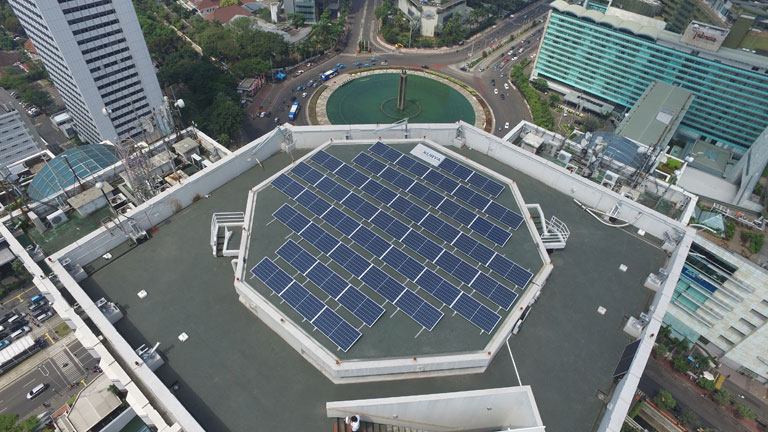 ---
Mitsui's Materiality
"Build brighter futures, everywhere" as our corporate mission, and to gain the trust and expectations of our stakeholders to realize a better tomorrow for earth and for people around the world, we have identified five material issues ("Materiality") for Mitsui's sustainable growth. We anticipate this particular project/ business to contribute especially to the realization of "Create an eco-friendly society"
Secure sustainable supply of essential products

Enhance quality of life

Create an eco-friendly society

Develop talent leading to value creation

Build an organization with integrity