On April 11, 2022, Mitsui & Co., Ltd. ("Mitsui", Head Office: Tokyo, President and CEO: Kenichi Hori) invested 10 million euro (approximately ¥1.35 billion, by way of subscribing convertible notes) in the French company Lhyfe, which produces green hydrogen in Europe using renewable energy through a production process that emits zero CO2.
The French pure player Lhyfe was created in 2017 by former employees of the French Alternative Energies and Atomic Energy Commission (CEA), with the aim of reducing greenhouse gas (GHG) emissions through the production of green hydrogen, connecting its plants directly to renewable energy power plants. Lhyfe has developed its first commercial plant to produce renewable green hydrogen using power from wind turbines, which inaugurated in 2021. The company is already active in ten countries in Europe (France, Germany, Belgium, the Netherlands, Denmark, Sweden, Finland, Norway, Spain and Portugal), and has over 90 pipeline projects, spread across 11 countries and with production start dates between 2022 and 2028. Lhyfe's target markets are mobility and industry usage.
Mitsui has worked to promote hydrogen usage, including fuel cell vehicles, through its investments in Hexagon Composites (Norway), which manufactures and sells tanks for high-pressure gases, including hydrogen, and FirstElement Fuel, which operates hydrogen stations in the United States. Under its "Green Deal" policy, the European Union has set a target of achieving net zero emissions by 2050, as well as installation of 40 GW renewable hydrogen electrolysers by 2030, and systems such as subsidies are being designed and introduced to encourage the use of hydrogen. Through its participation in Lhyfe, which produces green hydrogen locally for local consumption, Mitsui will become an insider in the European hydrogen market, and will contribute to the enhancement of Lhyfe's corporate value by developing customers and leveraging synergies with its existing hydrogen-related business. Furthermore, Mitsui will establish a hydrogen profit base in Europe and contribute to the accelerated reduction of GHG emissions via the development of the green hydrogen industry there.
Profile of Lhyfe
| | |
| --- | --- |
| Official Name | Lhyfe |
| Location | Nantes, France |
| Established | April, 2017 |
| Representative | Matthieu Guesne (CEO) |
| Shareholders | Matthieu Guesné, Noria, Vendee Energie, Les Saules (Ovive), Ouest Croissance, Océan Participations, SWEN Capital Partners, Banque des Territoires, Andera Partners and SFLD (Société Financière Lorient Développement) |
| Business Activities | Renewable green hydrogen production using renewable energy and sales of such green hydrogen for mobility and industry usage (a member of France Hydrogène and Hydrogen Europe) |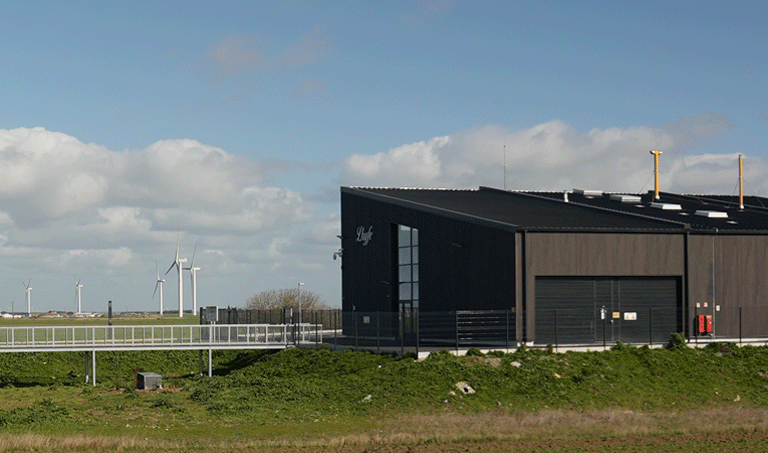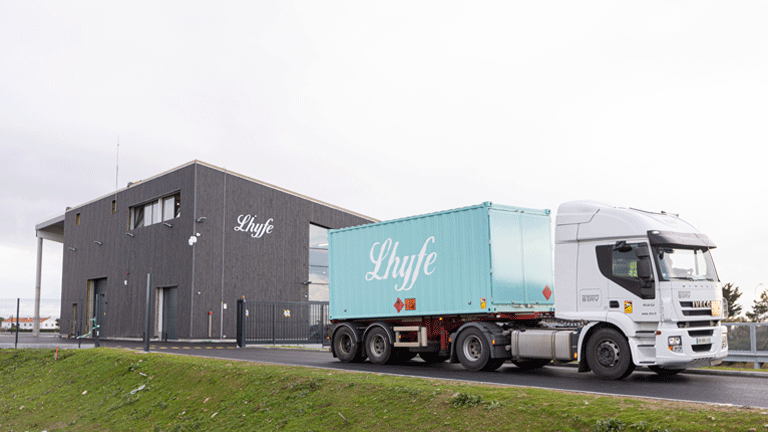 ---
Mitsui's Materiality
"Build brighter futures, everywhere" as our corporate mission, and to gain the trust and expectations of our stakeholders to realize a better tomorrow for earth and for people around the world, we have identified five material issues ("Materiality") for Mitsui's sustainable growth. We anticipate this particular project/ business to contribute especially to the realization of "Create an eco-friendly society"
Secure sustainable supply of essential products

Enhance quality of life

Create an eco-friendly society

Develop talent leading to value creation

Build an organization with integrity