Mitsui & Co., Ltd. ("Mitsui", Head Office: Tokyo, President and CEO: Kenichi Hori) has established e-dash Co., Ltd. ("e-dash", Head Office: Tokyo, President and CEO: Toma Yamasaki), a company supporting decarbonization initiatives of companies and municipalities through a cloud-based service platform.
The beta version of the "e-dash" service platform was released on October 2021, and is currently serving approximately 50 companies across 1400 locations. The newly established "e-dash Co., Ltd." will release and provide the official version of "e-dash" from April 1, 2022.
URL: https://e-dash.io
By simply uploading utility bills onto the service platform, companies and municipalities can automatically calculate CO2 emitted through their business activities, and greatly reduce their data collection and calculation workflows. In addition, several new functions have been developed and implemented into the "e-dash" platform, following requests received from customers during the beta release. Clients can effectively analyze their energy usage and CO2 emissions through the new functions, such as calculating CO2 and energy emission intensities, and setting emission targets to monitor mid-to-long term progress of their decarbonization initiatives. Furthermore, the official version of "e-dash", scheduled to release on April 2022, will also support the calculation and disclosure of Scope 3 emissions.
Through partnerships with The Iyo Bank, The Ehime Bank, The Kagawa Bank, The Tokushima Taisho Bank, The Nanto Bank, The Bank of Kyoto, The San-in Godo Bank, The Shiga Bank, The Hachijuni Bank, and Mirai Okinawa (Okinawa Financial Group), "e-dash" will support local CO2 reducing initiatives, including those of small and medium-sized companies which are often unsure of where to begin their journey towards carbon neutrality.
Company profile
| | |
| --- | --- |
| Official name | e-dash Co., Ltd. |
| Head office | Chiyoda-ku, Tokyo |
| President | Toma Yamasaki |
| Date of establishment | February 2022 |
| Shareholders | Mitsui & Co., Ltd. (100%) |
| Business description | Operation and development of "e-dash", a service platform that calculates and supports corporate initiatives to reduce CO2 emissions |
| Official website | |
One of the priority areas identified by Mitsui in its Medium-term Management Plan 2023 is "Sustainability Management; Evolution of ESG", while the company's vision for 2050 calls for the achievement of net-zero emissions. Furthermore, Mitsui has identified the Energy Solutions space as a strategic focus, and places initiatives that contribute to the global fight against climate change as key business area. Through "e-dash", Mitsui will contribute to the achievement of an eco-friendly society by supporting the decarbonization efforts of companies and municipalities.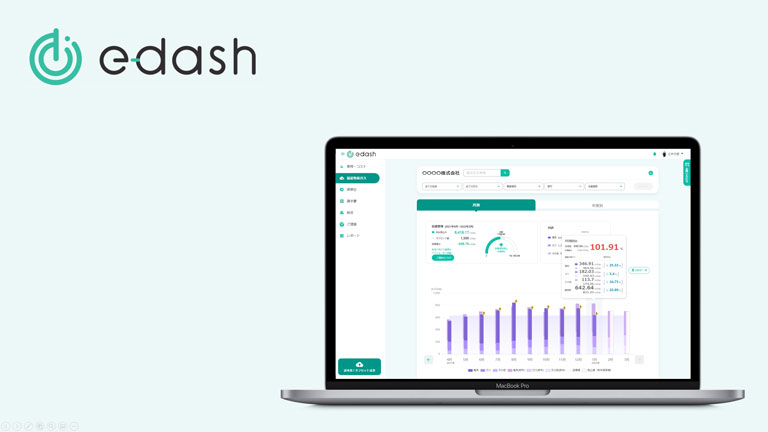 ---
Mitsui's Materiality
"Build brighter futures, everywhere" as our corporate mission, and to gain the trust and expectations of our stakeholders to realize a better tomorrow for earth and for people around the world, we have identified five material issues ("Materiality") for Mitsui's sustainable growth. We anticipate this particular project/ business to contribute especially to the realization of "Enhance quality of life" and "Create an eco-friendly society"
Secure sustainable supply of essential products

Enhance quality of life

Create an eco-friendly society

Develop talent leading to value creation

Build an organization with integrity