Mitsui & Co., Ltd. ("Mitsui", Head Office: Tokyo, President and CEO: Kenichi Hori) and Gazprom Neft PJSC ("Gazprom Neft") have reached agreement and concluded a Memorandum of Understanding ("MOU") regarding the commencement of joint work with the aim of promoting carbon capture and storage ("CCS") in the Russian Federation and other countries in which Mitsui and Gazprom Neft could further collaborate.
By leveraging their collaborative relationship built in the hydrocarbon field, Mitsui and Gazprom Neft will work together toward the realization of CCS projects in the Russian Federation. The MOU also covers the pursuit of potential collaborative projects between Mitsui and Gazprom Neft in relation to decarbonization business.
Going forward, through the establishment of technologies for liquefied CO2 transportation and an international framework to offset carbon footprint by creating carbon credits associated with CCS projects, Mitsui will contribute to the decarbonization of Japan and the Far East region.
Mitsui has been expanding its global business toward achieving a decarbonized society, including its participation in CCS projects in the U.K. and Australia, utilizing its knowledge in oil and gas upstream business, as well as its wide-ranging business networks. Mitsui aims to further deepen the strategic partnership with Gazprom Neft, and will work to provide low-carbon solutions to the entire energy value chain, endeavoring to create a sustainable and eco-friendly society.
About Gazprom Neft
Gazprom Neft is a vertically integrated oil company, primarily engaged in the exploration and development of oil and gas fields, oil refining, and the production and sale of petroleum products. Gazprom Neft is one of the top-three companies Russia's oil industry in terms of hydrocarbon production and refining volumes. Gazprom Neft's corporate structure comprises more than 70 exploration and production, refining and retailing enterprises throughout Russia, the CIS, and the rest of the world. The company operates across 110 countries, worldwide. Gazprom Neft's filling station network currently totals more than 2,000 outlets throughout Russia, the CIS and Europe. Company revenues in 2020 were ₽2 trillion, adjusted EBITDA ₽485 billion, and net profit ₽117.7 billion. Gazprom PJSC is the majority shareholder in Gazprom Neft PJSC (95.68%), with the remaining shares in free circulation.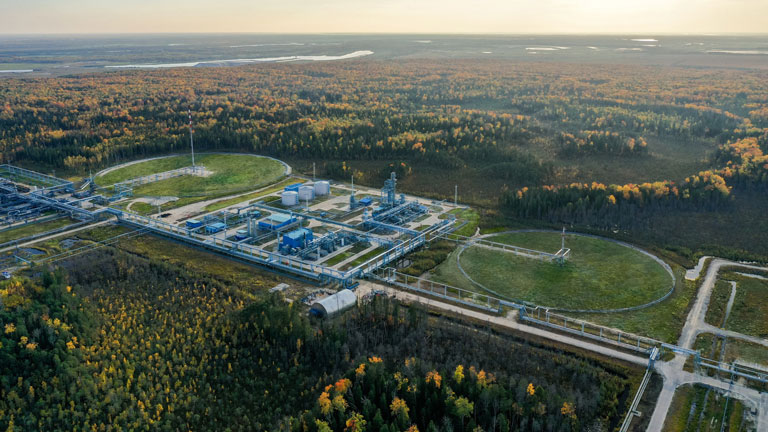 ---
Mitsui's Materiality
"Build brighter futures, everywhere" as our corporate mission, and to gain the trust and expectations of our stakeholders to realize a better tomorrow for earth and for people around the world, we have identified five material issues ("Materiality") for Mitsui's sustainable growth. We anticipate this particular project/ business to contribute especially to the realization of "Secure sustainable supply of essential products" and "Create an eco-friendly society"
Secure sustainable supply of essential products

Enhance quality of life

Create an eco-friendly society

Develop talent leading to value creation

Build an organization with integrity