Mitsui & Co. Ltd. ("Mitsui", Head Office: Tokyo, President and CEO: Kenichi Hori) is pleased to announce that it has been awarded a contract for the construction and operation of Meiji Metropolitan Park, as a member of a six-party consortium formed with Tokyo Tatemono Co., Ltd., Nippon Koei Co., Ltd., Seibu Landscape Co., Ltd., YOMIKO ADVERTISING INC. and AX-ON Inc. On January 24, 2022, the consortium, led by Tokyo Tatemono, concluded a basic agreement with the Tokyo Metropolitan Government.
Meiji Metropolitan Park is set to be the Tokyo Metropolitan Government's first ever Park-PFI* project, making full use of private sector expertise throughout its construction and operation phases.
The overall concept for the project is "TOKYO LEGACY PARKs", symbolizing the consortium's aim to create a park which can be passed down to future generations as a symbol of hope and pride.
Occupying an ample space of 7,500 square meters, a rarity in an urban area, the planned park will consist of a forested area and an open plaza to facilitate communication, complete with a café and restaurants.
*Private Finance Initiative (PFI): A way of financing public sector projects through the private sector. PFIs alleviate the government and taxpayers of the burden of shouldering the initial capital and operating expenses.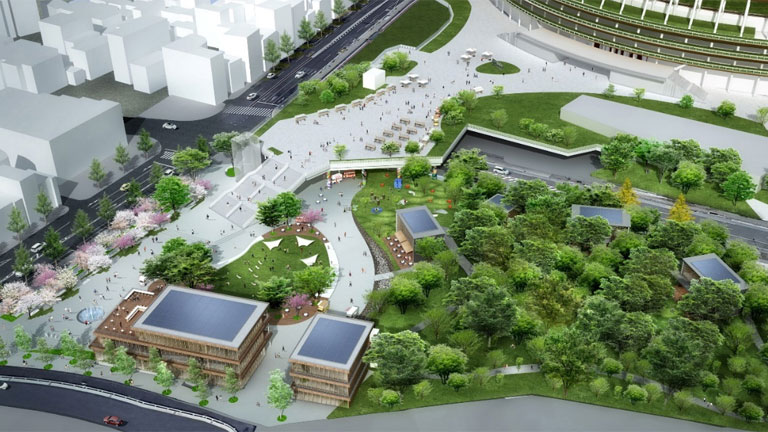 Project Scope
The purpose of the project is to build a park with an acreage of 1.6ha on the space adjacent to the New National Stadium, as well as to oversee the maintenance of the two existing pedestrian decks linked to the stadium over a 20-year period. Readily accessible from popular sites such as the Prince Chichibu Memorial Rugby Ground, Meiji Jingu Stadium, and the Tokyo Metropolitan Gymnasium, the space is expected to attract both tourists and inhabitants. The consortium will also work in cooperation with local organizations to provide residents and visitors with an improved living environment suited to their needs.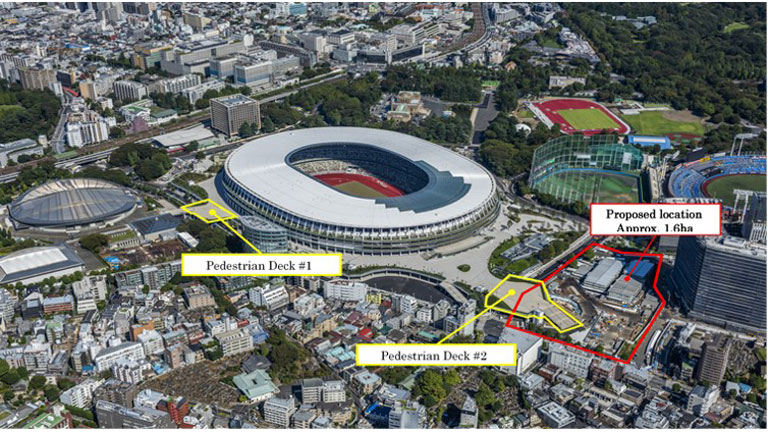 Core Values
Five core values have been established to ensure that the park becomes a legacy for future generations.
Project Outline (As of Jan. 25, 2022)
Park Infrastructure
| Area | Size |
| --- | --- |
| Forest | 7,500m2 |
| Plaza | 2,550m2 |
| Waterscape | 80m2 |
| Maintenance Office / WC | 150m2 |
| WC | 60m2 |
Shops and Restaurants
| | Categories | Size |
| --- | --- | --- |
| A | Café, Relaxation etc. | 600m2 |
| B | Café | 200m2 |
| C | Restaurant | 140m2 |
| D | Restaurant | 120m2 |
| E | Outdoor Fashion | 120m2 |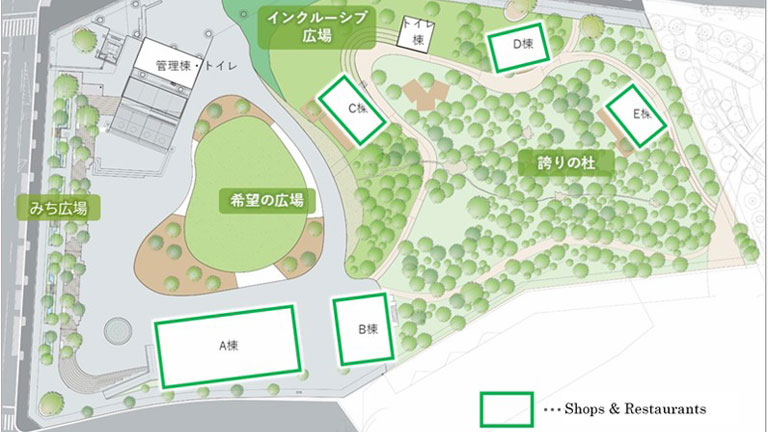 Park Infrastructure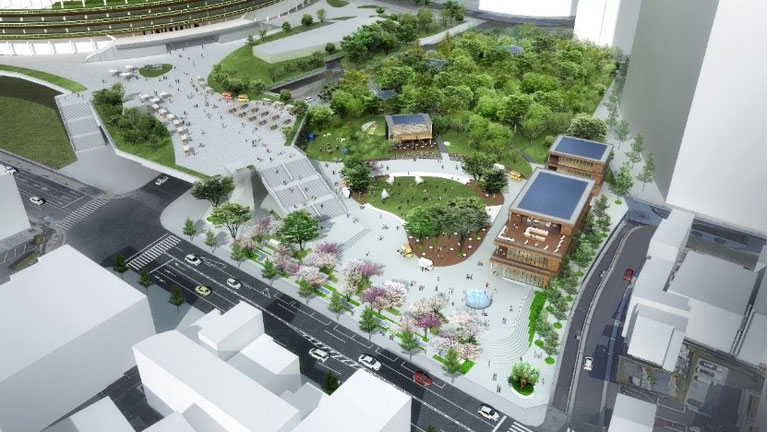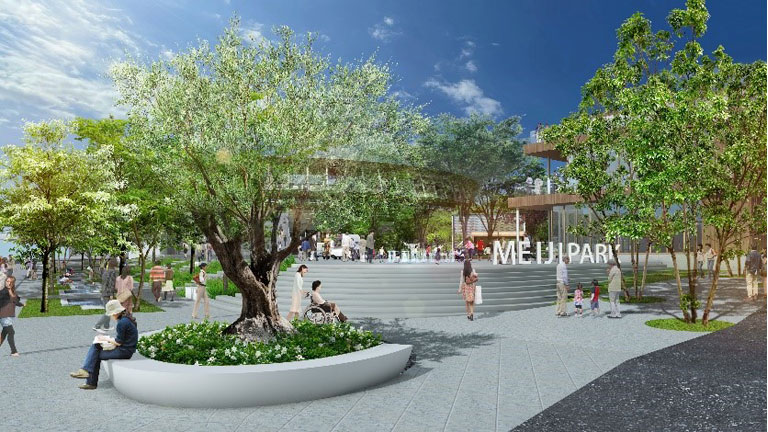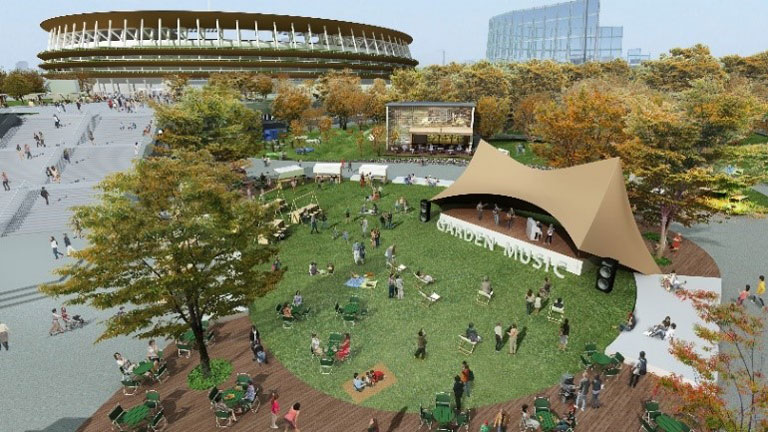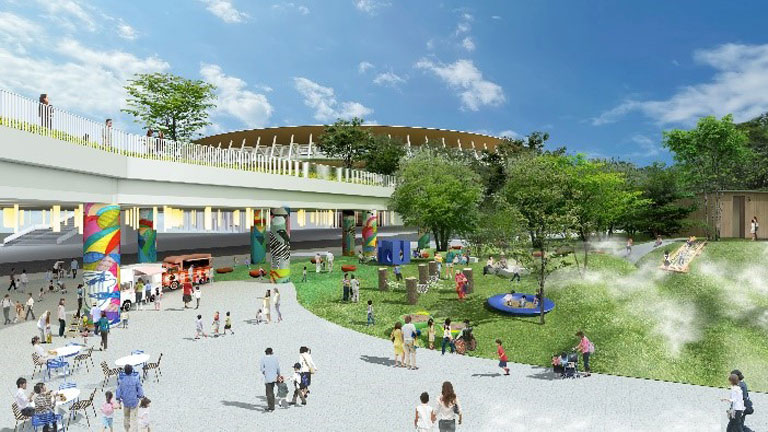 Shops & Restaurants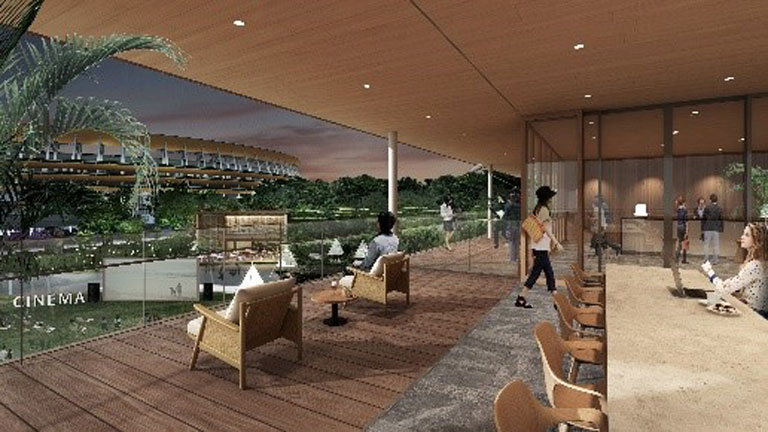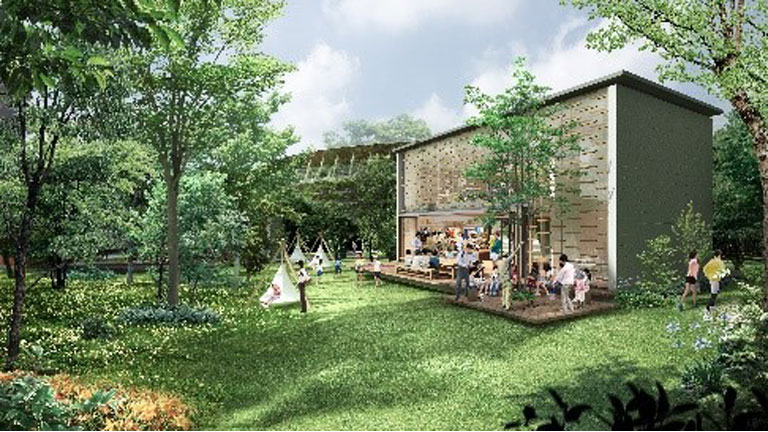 Meiji Metropolitan Park
| | |
| --- | --- |
| Address | Boundary of Shibuya-ku and Shinjuku-ku, Tokyo |
| Type of Park | Multi-purpose Park |
| Total Size | 33,499m2 |
Subject Area
| | |
| --- | --- |
| Address | Boundary of Shibuya-ku and Shinjuku-ku, Tokyo |
| Size | 16,179m2 |
Project Schedule
| | |
| --- | --- |
| January, 2022 | Basic Agreement, Certification of the Project Plan |
| March, 2022 | Implementation Agreement |
| June, 2022 | Commencement of Construction |
| October, 2023 | Public Opening |
| March, 2042 | Expiration of Contract |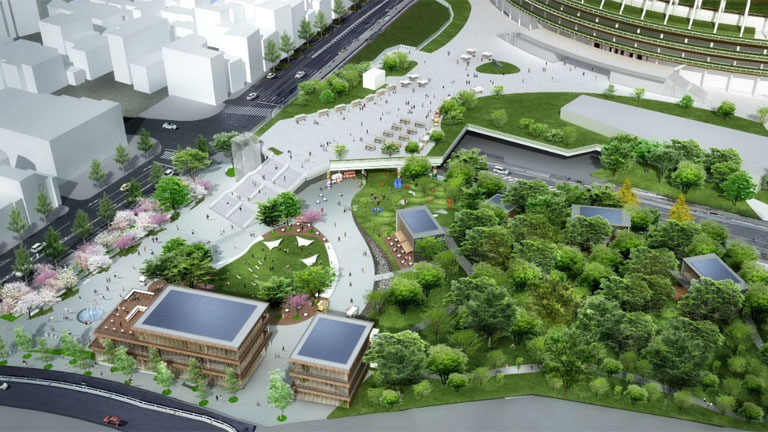 ---
Mitsui's Materiality
"Build brighter futures, everywhere" as our corporate mission, and to gain the trust and expectations of our stakeholders to realize a better tomorrow for earth and for people around the world, we have identified five material issues ("Materiality") for Mitsui's sustainable growth. We anticipate this particular project/ business to contribute especially to the realization of "Enhance quality of life"
Secure sustainable supply of essential products

Enhance quality of life

Create an eco-friendly society

Develop talent leading to value creation

Build an organization with integrity