Mitsui & Co., Ltd. ("Mitsui", Head Office: Tokyo, President and CEO: Kenichi Hori) has concluded a time charter contract with IINO Kaiun Kaisha, Ltd. ("IINO", Head Office: Chiyoda-ku, Tokyo, President and Representative Director: Hiromi Tosha), concerning a 23,000 m3 ammonia carrier (the "Vessel") to be built by Hyundai Mipo Dockyard (Head Office: Ulsan, Republic of Korea, President: Shin Hyeon-Dae) on IINO 's order. The Vessel will be scheduled for delivery and commence operations in December 2023.
Mitsui has been handling ammonia for around 50 years and currently handles around 700,000 tons of ammonia per year, primarily for Asian markets. Especially Mitsui holds the largest share in ammonia imported into Japan and has been supplying ammonia to customers, mainly for use in the production of chemicals and fertilizers. Ammonia is also attracting interest as a zero-emission fuel that emits no carbon dioxide during combustion, and as a means for transporting hydrogen. The Vessel will be used to ensure stable supplies of ammonia to existing customers in Asia, including Japan. In the future, Mitsui will consider engaging the Vessel for supplying clean fuel ammonia to Japan.
The Vessel is the world's first ammonia carrier to be designed and built based on the basic certification for ammonia-fuel-ready ship by the American Bureau of Shipping (ABS), a global classification society, and will be a next-generation ship that can switch to ammonia fuel in the future.
For many years, IINO has been engaged in the transportation of liquefied gases such as LPG, ammonia, and LNG, and has set an environmental goal for 2030 of reducing greenhouse gas emissions by 40% (compared to 2008 levels) per transport unit. IINO is furthering its commitment to the realization of a sustainable society.
In the supply chain for ammonia, including the use of ammonia as a fuel in addition to the conventional use in the production of chemicals and fertilizers, Mitsui will continue to contribute to the realization of "securing sustainable supply of essential products" and "creating an eco-friendly society", which are one of the key objectives under its Materiality.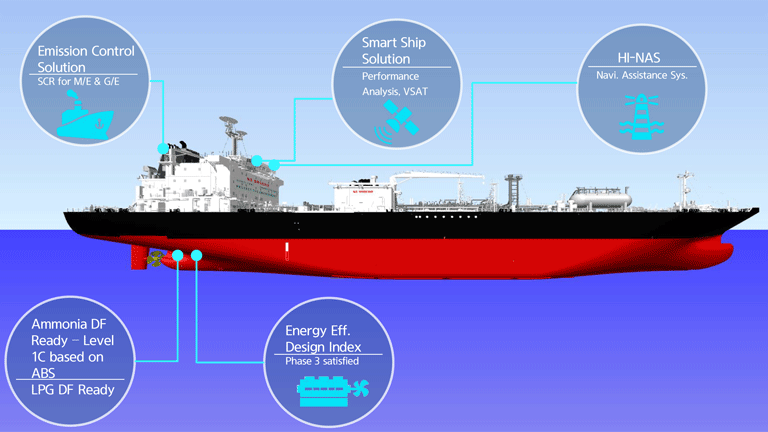 ---
Mitsui's Materiality
"Build brighter futures, everywhere" as our corporate mission, and to gain the trust and expectations of our stakeholders to realize a better tomorrow for earth and for people around the world, we have identified five material issues ("Materiality") for Mitsui's sustainable growth. We anticipate this particular project/ business to contribute especially to the realization of "Secure sustainable supply of essential products" and "Create an eco-friendly society"
Secure sustainable supply of essential products

Enhance quality of life

Create an eco-friendly society

Develop talent leading to value creation

Build an organization with integrity