Mitsui & Co., Ltd. ("Mitsui", Head Office: Tokyo, President and CEO: Kenichi Hori) announced today that it will invest INR300 million (approximately USD4.1 million) in Punjab Renewable Energy Systems Pvt. Ltd. ("PRESPL"), one of the leading biomass supply-chain management companies in India.
PRESPL is involved in the collection, storage and processing of agricultural residues and the production of biomass briquettes and pellets to meet the growing demand for biomass fuel from India's rapidly expanding bio-energy industry. PRESPL also provides a range of operation & maintenance, and other technical services, to the industry.
One of the major causes of air pollution in India today is the practice of burning straw stubble and other agricultural residues left after crops have been harvested. To help address this problem, the Government of India has introduced policies to promote the effective utilization of agricultural residues as a primary and supplementary fuel stock for the bio-energy industry. These policies are expected to contribute to the continued expansion of the bio-energy industry in India, as part of a flourishing circular economy.
Mr. Masaharu Okubo, Country Chairperson of Mitsui & Co. India Pvt. Ltd. said
"We look forward to working together with PRESPL to grow its business by combining our respective areas of expertise and leveraging synergies with Mitsui's diverse business portfolio.
The growth of PRESPL will contribute significantly to reducing air pollution and carbon emissions in India by effectively using agricultural residues as a fuel-stock for the bio-energy industry and providing a more sustainable alternative to fossil fuels. We, at Mitsui are grateful to be able to join PRESPL and contribute to the betterment of Indian society and other related stakeholders.
This investment is aligned with one of Mitsui's important goals to create a more sustainable society, while furthering the expansion of our bio-energy business in India and around the world."
Lt. Col. Monish Ahuja (Retd), Chairman & Managing Director, PRESPL said
"On behalf of Team PRESPL and existing shareholders, I am delighted to welcome Mitsui as an investor and strategic partner. This investment from Mitsui will help PRESPL expand our footprint and accelerate the growth of the business as a market leader in India and overseas. In partnership with Mitsui, we aim to make a meaningful contribution to tackling climate change through the better utilization of biomass agri-waste for bioenergy."
About Mitsui
Mitsui & Co., Ltd (8031: JP) is a global trading and investment company with a diversified business portfolio that spans approximately 65 countries in Asia, Europe, North, Central & South America, The Middle East, Africa and Oceania.
Mitsui has over 5,600 employees and deploys talent around the globe to identify, develop, and grow businesses in collaboration with a global network of trusted partners. Mitsui has built a strong and diverse core business portfolio covering the Mineral and Metal Resources, Energy, Machinery and Infrastructure, and Chemicals industries.
Leveraging its strengths, Mitsui has further diversified beyond its core profit pillars to create multifaceted value in new areas, including innovative Energy Solutions, Healthcare & Nutrition and through a strategic focus on high-growth Asian markets. This strategy aims to derive growth opportunities by harnessing some of the world's main mega-trends: sustainability, health & wellness, digitalization, and the growing power of the consumer.
Mitsui has a long heritage in Asia, where it has established a diverse and strategic portfolio of businesses and partners that gives it a strong differentiating edge, provides exceptional access for all global partners to the world's fastest growing region and strengthens its international portfolio.
For more information on Mitsui & Co.'s businesses visit www.mitsui.com.
About Mitsui India
Mitsui has a long-standing and widespread presence in India. Since the 1950s, Mitsui has progressively grown and expanded in the country to operate across a diversified portfolio of businesses. Today Mitsui has investments in steel, power infrastructure, chemicals, logistics, motorcycles, bathroom products, healthcare, pharmaceuticals, fast moving consumer goods, and television shopping. Mitsui has offices in New Delhi, Mumbai, Bengaluru, Kolkata, Chennai, and Hyderabad. The following are some of Mitsui's recent investment activities in India:
About PRESPL
Punjab Renewable Energy Systems Private Limited (PRESPL), is a 'Leading Indigenous' Indian entrepreneur-cum-contributor in Biomass Supply Chain Management, in India, since 2011. PRESPL has served the farmers and the industry with amicable Bio-Energy and Biomass solutions through suitable business models; while enabling the villagers to gain entrepreneurial acumen. PRESPL has a range pf products & services to offer being India's one of the largest players in Biomass Supply Chain Management for entire spectrum of Bio-energy, Biomass briquetting and pelleting, BOOT (Build, Own, Operate & Transfer) for Boilers & Co-Generation Plants, Biomass Assessment & Technical Consultation, and Silage for cattle etc., to name a few.
PRESPL has spearheaded the Biomass Sphere by contributing to Policy Making, and Technology Enhancements. PRESPL also taken up intricate and detailed Biomass Assessment Studies, across the spectrum of India and few projects internationally to enable an accurate understanding of the varied trends in biomass availability, its consumption pattern, while also identifying potential locations on basis of analysis of both secondary and primary levels data. In the last decades, since its inception, PRESPL has impacted more than 1000+ villages, 500+ Village Level Entrepreneurs (VLEs), 2500+ jobs creation, and Carbon Footprint reduction of approx. 0.25 MMT.
For more information on PRESPL's impact and products, please visit www.prespl.com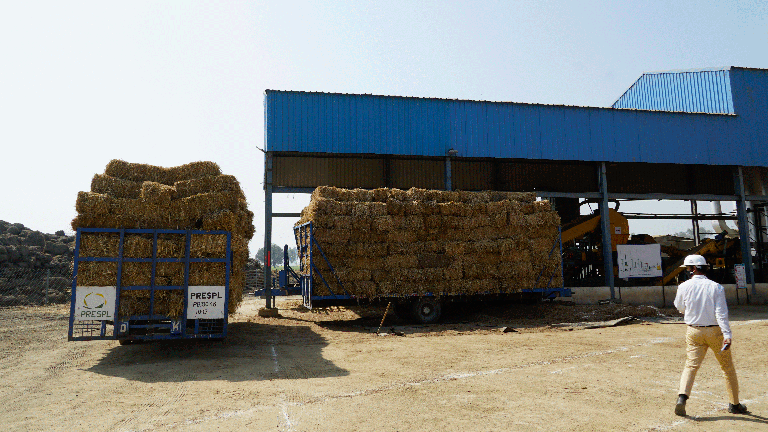 ---
Mitsui's Materiality
"Build brighter futures, everywhere" as our corporate mission, and to gain the trust and expectations of our stakeholders to realize a better tomorrow for earth and for people around the world, we have identified five material issues ("Materiality") for Mitsui's sustainable growth. We anticipate this particular project/ business to contribute especially to the realization of "Secure sustainable supply of essential products" and "Create an eco-friendly society"
Secure sustainable supply of essential products

Enhance quality of life

Create an eco-friendly society

Develop talent leading to value creation

Build an organization with integrity