Mitsui & Co., Ltd. ("Mitsui", Head Office: Tokyo, President and CEO: Kenichi Hori) has launched Work-X+, a new integrated service for offices, as well as its dedicated website. Catering to the variety of workstyles that have emerged during the 'new normal', Work-X+ is a one-stop solution of integrated services that get an office up and running – including concept design, day-to-day operations such as food services and administrative support, and the utilization of digital tools to measure the impact of workplace transformation.
The spread of the novel coronavirus has led to the large-scale implementation of teleworking, and new ways of working which go beyond face-to-face interactions (including online meetings) are rapidly gaining popularity. In response, companies are increasingly re-examining the significance and purpose of a physical office – working to find the optimal combination of in-person and remote interactions to maximize results while improving operational efficiency.
Amid such a rapidly changing work environment, Mitsui made the move to its new head office in May 2020. While taking measures to prevent the spread of the virus, the company has spearheaded the launch of its internal Work-X (Workplace Experience) program, which aims to encourage a transformation in the awareness and behavior of each employee. Under the new program, the office has been defined as a space which inspires innovation through serendipitous encounters and self-initiated collaboration. Various measures have been implemented to facilitate such an environment, including analyzing location and communication data trends (with appropriate consideration for privacy and workplace needs). The data is used to measure and identify opportunities to improve productivity and cross-departmental communication in a hybrid work setting.
As an extension of Work-X, Work-X+ provides an integrated range of services which encourage efficient workplace transformation in the age of the 'new normal'. The service builds upon the know-how that Mitsui has accumulated through its internal workplace transformation and the operational capabilities of the Mitsui Group's corporate food services and office maintenance businesses, which have developed over the past 40 years.
By providing integrated services that are adapted to the hybrid working model, Mitsui aims to improve the wellbeing of employees and their families, in turn contributing to a future in which people can live healthy, prosperous and joyous lives.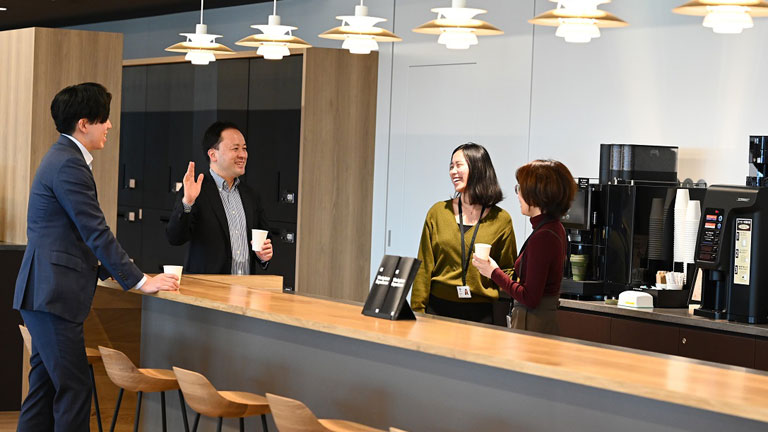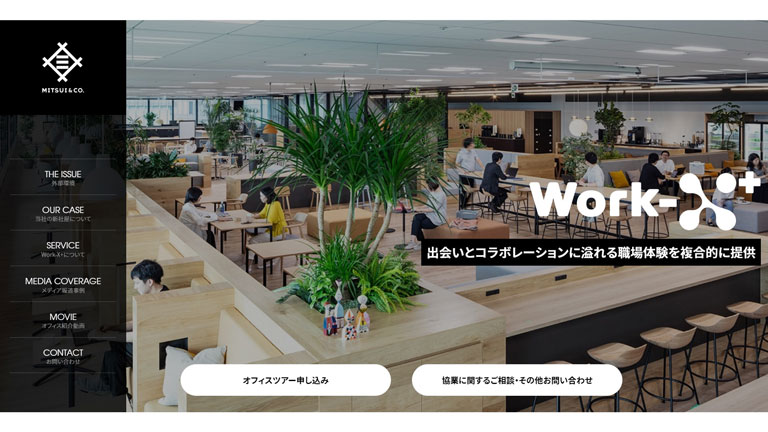 ---
Mitsui's Materiality
"Build brighter futures, everywhere" as our corporate mission, and to gain the trust and expectations of our stakeholders to realize a better tomorrow for earth and for people around the world, we have identified five material issues ("Materiality") for Mitsui's sustainable growth. We anticipate this particular project/ business to contribute especially to the realization of "Enhance quality of life" and "Develop talent leading to value creation"
Secure sustainable supply of essential products

Enhance quality of life

Create an eco-friendly society

Develop talent leading to value creation

Build an organization with integrity