Mitsui & Co., Ltd. ("Mitsui", Head Office: Tokyo, President and CEO: Tatsuo Yasunaga) has formed an agreement with Hakuhodo Inc. ("Hakuhodo", Head Office: Tokyo, President & CEO: Masayuki Mizushima) to partner on the development of smart cities that are driven by sei-katsu-sha -- the people who live in them.
"Sei-katsu-sha" is a term introduced by Hakuhodo to describe people not simply as consumers, but as fully rounded individuals with their own lifestyles, aspirations, and dreams.
The COVID-19 pandemic is changing the way many people live their daily lives. It is leading to a major reassessment of what an ideal city is, along with a realization that people and societies across the planet need to become more sustainable. At the same time, digitization across all industries and the advancement of information technology are rapidly making cities smarter, and there are high expectations that this will eventually lead to the development of solutions to the various challenges facing cities around the world, including addressing environmental issues and streamlining administrative services.
Against this backdrop, Mitsui and Hakuhodo will work together to develop a next-generation sei-katsu-sha-driven smart city model for cities in Japan and around the world, where sei-katsu-sha take a leading role in realizing the lifestyles they want to live in their ideal cities, through new urban services.
Backed by its renowned creativity and the Sei-katsu-sha Insight philosophy that is the cornerstone of all its ideas, Hakuhodo's goal is to develop unimagined way for society and create new lifestyles for the future. Together with Hakuhodo, Mitsui will leverage its comprehensive strength to provide a diverse range of services, and create new value through digital technology. Leveraging its network of customers and partners around the world, Mitsui will promote the expansion of the smart city model into cities across Japan and abroad.
As stated in its Medium-Term Management Plan, Mitsui's goal is to support social development by responding flexibly to the tumultuous business environment and to accelerating changes and customer demands. Through this project, Mitsui will contribute to the improvement of people's lives and the development of local industry by providing stable social infrastructure over the long term.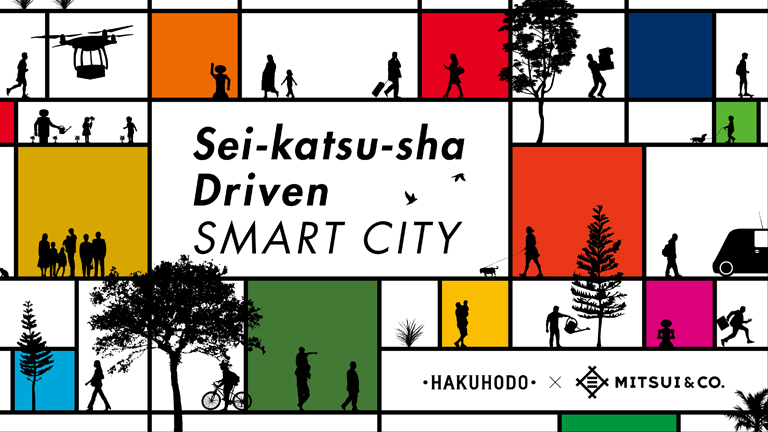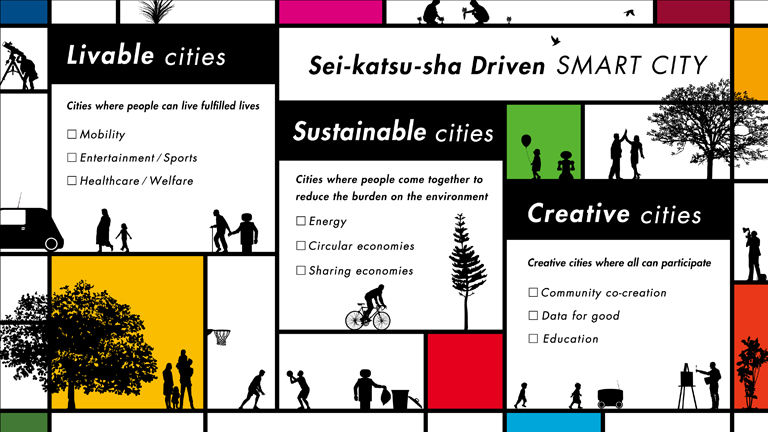 ---
Mitsui's Materiality
"Build brighter futures, everywhere" as our corporate mission, and to gain the trust and expectations of our stakeholders to realize a better tomorrow for earth and for people around the world, we have identified five material issues ("Materiality") for Mitsui's sustainable growth. We anticipate this particular project/ business to contribute especially to the realization of "Enhance quality of life"
Secure sustainable supply of essential products

Enhance quality of life

Create an eco-friendly society

Develop talent leading to value creation

Build an organization with integrity