The Mitsui & Co. Environment Fund
Introduction to Grant Projects
INDEX="18" NAME="Beekeeping business with the goal of economic independence for Amazonian natives in Brazil" TYPE="活動助成," YEAR="2018年度," AREA="中南米," KIND="NPO," ORG="Rainforest Foundation Japan (NPO)"
Rainforest Foundation Japan (NPO)
Beekeeping business with the goal of economic independence for Amazonian natives in Brazil
Activity grant
Project Description

A beekeeping business which utilizes the rich biodiversity of the tropical rainforest environment is effective in solving the issues faced by the target region. Although there is no fully established monetary economy in this region, it will be essential to introduce a monetary system in the coming years. The indigenous tribes of this region are often targets of discrimination, and are at risk of becoming part of the bottom rank of Brazilian society. There are hopes that co-existence can be achieved through collaboration between local residents and cooperation with external NGOs, and the securing of dristribution channels and establishment of markets in line with the rules of Brazilian society. We firmly beleive that we can realize an alternative, which is for the tribes to continue to survive and maintain their own culture, and that this is a groundbreaking project that falls under Goal 12 of the SDGs. [No. K18-0010]

Mitsui & Co. Environment Fund FY2018 Activity Grants List (PDF 372KB)
Fields

Relationship between People and Society
Grant year

FY2018 Activity Grants
Grant term

1 year (April 2019 - March 2020)
Grant amount

¥2,800,000
Activity region

Brazil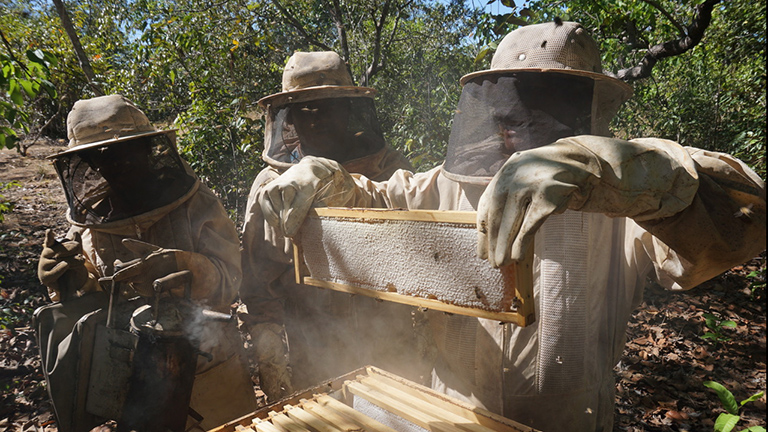 Overview of the Organization

Project organization

Rainforest Foundation Japan (NPO)

Representative

Representative: Kenko Minami

Establishment

1989

Establishment Purpose

Tropical forests in Brazil's Amazon, which is a global oxygen supply source, are steadily decreasing due to development based on economic priority logic. This group has been established to support the survival of the indigenous people called Indio who live in this area. Along with tropical forest conservation and indigenous people support projects in the field, lectures are also held in Japan and enlightenment activities are carried out in order to have more people understand the situation.

Recent Activities

(1) Tropical forest protection project: Firefighting by the indigenous people to prevent frequent spontaneous fires, provision of fire protection support, wildlife protection, and research into the decreasing availability of herbs in the area
(2) Economic independence support project: Support projects such as beekeeping for the purpose of economic independence for the indigenous people
(3) Medical support business: Provide emergency support for the contraction of diseases for which no immunity exists, material support in the form of medicine, etc.

Staff

Number of Full-time employees: 2 / Number of Part timers: 3 / Number of Members: 980 (1 organization)

WEB site

Voice of Representative

This project serves as a model case for the economic independence of a local people in an area where a monetary economy has not yet been established, as well as for tropical forest protection. In spreading this success story and supporting the economic independence of the Indio, it is possible to create a path toward coexistence within Brazilian society.