The Mitsui & Co. Environment Fund
Introduction to Grant Projects
INDEX="37" NAME="Village development project promoting coexistence between local residents and tigers" TYPE="活動助成," YEAR="2017年度," AREA="アジア," KIND="公益法人," ORG="World Wildlife Fund Japan"
World Wildlife Fund Japan
Village development project promoting coexistence between local residents and tigers
Activity grant
Project Description

Wild tigers largely inhabit developing countries in Asia, but over the past hundred years the tiger population has decreased from 100,000 to just 3,200. In Indonesia, Sumatran tigers are being driven from their natural habitat due to the unlawful expansion of farmland into national parks, wandering into human settlements where they are exterminated by local residents. This program instructs residents in high value-added agriculture, so that they can improve their livelihoods without expanding farmland, and also teaches them how to deal with tigers appropriately. The goal is to establish development methods that allow humans and tigers to coexist, and to expand these methods to other tiger habitats. [No. K17-0011]
Fields

Ecosystems and the Symbiotic Society
Grant year

FY2017 Activity Grants
Grant term

One year (From October 2017 to September 2018)
Grant amount

4.4 million yen
Activity region

Bukit Barisan Selatan National Park and the surrounding area, Sumatra, Indonesia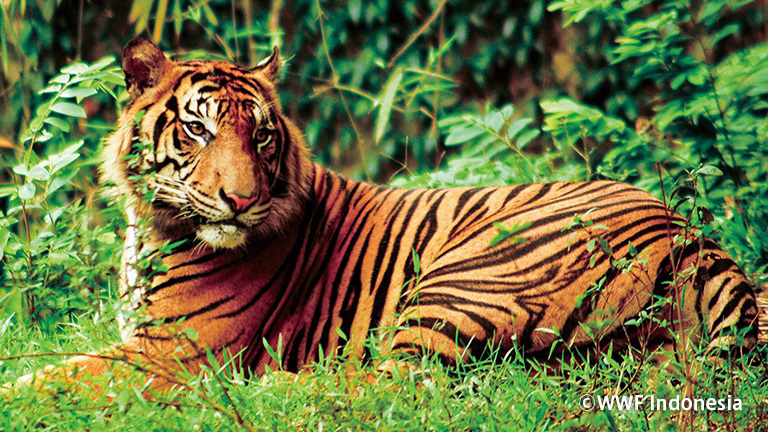 Overview of the Organization

Project organization

World Wildlife Fund Japan

Representative

Chairman: Tsunetaka Tokugawa

Establishment

1971

Establishment Purpose

Currently supported by about 5 million members and donors, the WWF was founded in Switzerland in 1961 and is active in around 100 countries. Since its founding in 1971, WWF Japan has worked towards "a future where humanity can live in harmony with nature," carrying out rainforest, wetland, and coral reef preservation activities. In recent years, the foundation has also been promoting activities in response to global issues like global warming and marine pollution.

Recent Activities

As part of efforts to protect biodiversity, the foundation implements programs to protect wild animals at risk of extinction in the Russian Far East, Indonesia, and other locations.
As part of efforts to promote sustainable procurement practices by Japanese business, the foundation conducts all kinds of seminars related to the procurement of paper, palm oil, and other products.
As part of efforts to reduce environmental pollution as well as the waste of resources and energy, the foundation conducts analysis of energy supply and demand in Japan and creates carbon dioxide emission reduction scenarios, etc.

Staff

Number of Full-time employees: 61 / Number of Part timers: 17 / Number of Members: 48,497

WEB site

Voice of Representative

For communities to think together about how residents can co-exist with wild tigers in national parks and the surrounding regions, there are thought to be a variety of different rural development approaches that are useful. Communities can think together about what kind of intervention is appropriate and carry out those plans.