The Mitsui & Co. Environment Fund
Introduction to Grant Projects
INDEX="410" NAME="Preserving a thousand year history of Aso's greenland through volunteer activities to support burning fields." TYPE="活動助成," YEAR="2008年度," AREA="日本全国,九州・沖縄," KIND="公益法人," ORG="Aso Green Stock Foundation"
Aso Green Stock Foundation
Preserving a thousand year history of Aso's greenland through volunteer activities to support burning fields.
Activity grant
Project Description

The grassland of Aso has a unique view of undulating hills, which is the largest area of its kind at 23,000 ha, and is a treasure trove of rare plants such as hikodai and ohanashinobu. Although the view of the grassland used to be maintained by a type of field burning called wachikiri (firebreak) for grazing cattle and mowing grass, some parts of the grassland have been devastated because of the liberalization of imported beef, reducing rice acreage, lack of successors, an aging workforce, and labor shortages. We recruit volunteers for helping out with field burning across Japan, and conduct training for the new recruits, teaching about the importance of grassland and the purpose of field burning, and then implement continuous volunteer dispatch work to various locations.
Fields

Preservation of surface soil and forests

Preservation of biodiversity and ecosystem
Grant year

FY2008 Activity Grants
Grant term

3 years
October 2008 - September 2011
Grant amount

8,000,000 yen
Activity region

The entire city of Aso, Japan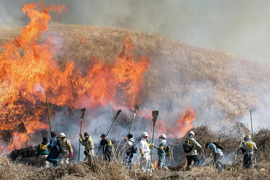 Overview of the Organization

Representative

Yoshioki Sato, Chairperson(Mayor of Aso)

Established

1995

Establishment purpose

We regard Aso's green earth (grassland, woodland, and farmland) as national life property (Green Stock) and aim to hand this down to the next generation through cooperation with the agricultural community, urban community, industry, and government.

Main areas of activity

The entire area of Aso city

Staff

4 full-time members, 770 full members

Annual operating budget

53,830,000 yen in 2005, 52,090,000 yen in 2006, 64,800,000 yen in 2007

WEB site

Main Activities

(1) Awareness raising and research study for agriculture and its community promotion, and maintaining grassland in Aso area
(2) Firebreaks for maintaining grassland and volunteer work to support burning fields
(3) Project for Creating water conservation wood forrest
(4) "AKA GYU owner system" for grassland conservation and livestock industry promotion.
(5) "Green Trust Charity Campaign" to preserve Aso's green and water /li>
(6) Promotion of agriculture, forestry, and stockbreeding for maintaining agriculture and forestry.
(7) Creating new villages through interaction between the urban and agricultural community and rural life called "Aso yuttato-mura".