The Mitsui & Co. Environment Fund
Introduction to Grant Projects
INDEX="428" NAME="Planting Vernicia to reduce CO2, mitigate desertification, and conserve the environment" TYPE="活動助成," YEAR="2008年度," AREA="アジア," KIND="NPO," ORG="Joint Grass Roots Fukuoka (JGRF)"
Joint Grass Roots Fukuoka (JGRF)
Planting Vernicia to reduce CO2, mitigate desertification, and conserve the environment
Activity grant
Project Description

An Giang Province is one of twelve provinces spread across the southern Mekong Delta in Vietnam and it shares a western border with Cambodia. Tri Ton District, one of the project areas, primarily produces agricultural crops such as cassava, corn, peanuts and tobacco, but poverty in the region has increased dramatically due to (1) population increase reducing the scale of farms and area available for farming, (2) soil degradation due to continous cultivation, and (3) reduced income from farming as a result of being slow to diversify and other reasons. In order to break this cycle, this project will plant jatropha, a species that can even thrive in damaged land. It aims to (1) reduce CO2, (2) introduce an emissions trading system, and (3) improve soil conditions by using waste from oil production as an organic fertilizer, as well as develop initiatives that aim to revitalize the local economy, create employment, and stabilize food prices and supply.
Fields

Preservation of surface soil and forests

Energy problem
Grant year

FY2008 Activity Grants
Grant term

3 years
October 2008 - September 2011
Grant amount

6,000,000 yen
Activity region

Tri Ton and Tinh Bien Districts, An Giang Province, Vietnam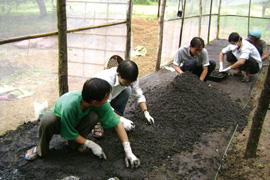 Overview of the Organization

Representative

Nobuo Ogami, General Director

Establishment

2004

Establishment purpose

JGRF was established to create partnerships with Vietnamese government agencies and academic institutions in order to conduct research and surveys, publicise, and provide technical training and financial support for efforts to develop agriculture and industry in the country. It also aims to facilitate mutually beneficient exchange that boosts both Japan and Vietnam's economies, and contribute to social and economic development.

Main area of activity

Vietnam

Staff

2 full-time staff members, 6 part-time staff members, and 30 full members

Annual operating budget

1.60 million yen in 2005, 510,000 yen in 2006, 600,000 yen in 2007

Recent activities

(1) In the period from Janaury 2005 to December 2006, JGRF introduced a mixed-farming pilot scheme in the Mekong Delta region that involved raising local products such as water hyacinth, rice, marine produce, livestock, and vegetables, and increased earnings for farmers by promoting mixed-farming methods using livestock and marine produce (catfish, shrimps, etc.)
(2) In November 2007, it became a grass roots partner of JICA, and in April 2008, it applied to conduct activities under PACCOM (People's Aid Coordinating Committee), an organization that coordinates activity by overseas NGOs in Vietnam. Since receiving permission in August 2008, it has been collaborating with An Giang University on an initiative to increase the earnings of rice farmers by improving rice cultivation technology, diversifying farming activities, and innovating methods for selling produce.