The Mitsui & Co. Environment Fund
Introduction to Grant Projects
INDEX="546" NAME="Reforestation to recharge water sources in the 'water jug' prefecture" TYPE="活動助成," YEAR="2007年度," AREA="日本全国,関東," KIND="NPO," ORG="Forest Gunma 21"
Forest Gunma 21
Reforestation to recharge water sources in the 'water jug' prefecture
Activity grant
Project Description

Gunma Prefecture is 67% forested and acts as the 'water jug' for the Kanto region, but the decline of the forestry industry is leading to forests becoming uncontrolled and deteriorating. Forest Gunma 21 will engage in maintenance activities, such as planting, pruning, and tree-thinning, in order to conserve the forests and woodlands that recharge water sources. It will also implement environmental education initiatives, such as practical forestry courses for junior high school students.
Fields

Preservation of surface soil and forests
Grant year

FY2007 Activity Grants
Grant term

3 years
April 2008 - March 2011
Grant amount

3,700,000 yen
Activity region

Gunma Prefecture, Japan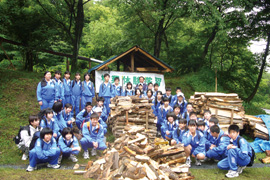 Overview of the Organization

Representative

Teruhide Kikugawa, Director

Establishment

2002

Establishment purpose

Forest Gunma 21 was established to implement reforestation activities based on a vision of what 21st century forest should be in terms of environment, biology, and landscape, and to contribute to the creation of ideal forests in Gunma Prefecture. Its scope of activity includes initiatives that contribute to acheiving the organization's goals anywhere in the prefecture. These initiatives primarily take the form of volunteer forest maintenance work. The organization also holds woodwork classes that use wood produced through forest-thinning to raise awareness of the beauty and warmth of trees, and provides forest schools and forestry experience classes to cultivate the next generation of members.

Main area of activity

Gunma Prefecture

Staff

1 full-time staff member, 73 full members

Annual operating budget

3.98 million yen in 2005, 3.90 million yen in 2006, 4.06 million yen in 2007

Recent activities

In the seven years since it was established, Forest Gunma 21 members have worked hard in the forests every week in the spirit of the group's motto of 'cheerful, fun, and putting safety first'. During this time they have become adept at surveying, traversing, and understanding the forest. The following is the result of efforts in 2007: 53 initiatives; 4 forestry experience courses; 9 training courses; 11 public awareness and fund raising activities; 24 forest maintenance and tree-thinning research activities in 11 different locations; 3,142 participants (including 217 youths); 255 trees planted; 6.4ha pruned; 26.4ha thinned; 17.8ha of undergrowth cleared; and 1 annual activity report, 4 issues of Forest Info, and 12 Forest Gunma newsletters issued. Photos of activities are posted on the Forest Gunma 21 website.