The Mitsui & Co. Environment Fund
Introduction to Grant Projects
INDEX="547" NAME="Learning amongst nature" TYPE="活動助成," YEAR="2007年度," AREA="中南米," KIND="海外の団体," ORG="Fundación Espacios Verdes (Foundation for Green Spaces - Argentinian NGO; recommended by Mitsui & Co. Americas BU)"
Fundación Espacios Verdes (Foundation for Green Spaces - Argentinian NGO; recommended by Mitsui & Co. Americas BU)
Learning amongst nature
Activity grant
Project Description

Environmental awareness is not very widespread in Argentina, and Fundación Espacios Verdes is a pioneer for environmental education in the country, having already provided it to 30,000 children. It aims to further develop work to promote environmental education nationwide. It will create a nature reserve comprising 250ha of distinctively abundant natural land surrounding a center owned by the foundation in San Luis Province, and develop and implement an environmental program situated in this natural environment and open to people from all walks of life. The project will be supported by JICA volunteers.
Fields

Preservation of biodiversity and ecosystem
Grant year

FY2007 Activity Grants
Grant term

3 years
April 2008 - March 2011
Grant amount

25,116,160 yen
Activity region

Argentina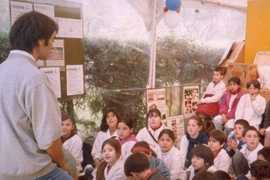 Overview of the Organization

Representative

Ana Maria Barbara Mercedes Monaco, President

Establishment

1991

Establishment purpose

Like many developing countries, Argentina is lacking in terms of awareness about the importance and necessity of conserving the natural environment, which is proving a fundamental problem when it comes to addressing environmental issues. This lack of awareness is thought to be caused by the nation's culture, and the only way of overcoming it is sustained environmental education. To acheive this, the Fundación Espacios Verdes has established the Learning Amongst Nature Project, and will use this educational program to foster individuals with a sense of responsibility, and moral sense and awareness concerning environmental issues. The Fundación Espacios Verdes was established with the hope that the people who it cultivates through this kind of activity will pass on their way of thinking to others, creating ripples through society.

Main area of activity

Argentina

Staff

4 full-time staff members, 8 part-time staff members

Annual operating budget

700,000 yen in 2005, 3.9 million yen in 2006, 4.3 million yen in 2007

WEB site

Recent activities

Implementing various environmental education activities, including:

(1) Holding events in the Buenos Aires Japanese Gardens and environmental education classes for students and the general public.
(2) Developing lectures, workshops, and cultural and craft activity programs with environmental themes.
(3) Working with local governments to publish environmental texts and selling handicrafts at bazaars.
(4) Holding events with other environmental NGOs to promote these activities.