The Mitsui & Co. Environment Fund
Introduction to Grant Projects
INDEX="458" NAME="Encouraging Niigata salmon upstream as far as Nagano (Ueda, Matsumoto)" TYPE="活動助成," YEAR="2008年度," AREA="日本全国,中部," KIND="NPO," ORG="Niigata Mizubenokai"
Niigata Mizubenokai
Encouraging Niigata salmon upstream as far as Nagano (Ueda, Matsumoto)
Activity grant
Project Description

The Shinano/Chikuma River has been known as one of the best areas in Japan for salmon since the Heian period, and there are records showing they once travelled as far as 300km upstream to upland areas such as Matsumoto and Ueda. However, since the start of hydro power generation in the 1930s, the creation of dams and power plants have left some sections of the river waterless except during floods (about 7.4km around Sasadaira Dam) or with extremely low water levels (63.5km downstream from Nishiotaki Dam to JR East Shinanogawa Power Station), blocking the upstream and downstream routes used by salmon, and leading to the demise of salmon sites in the Chikuma River and Niigata Prefecture from the 1940s. Furthermore, the regenerative functions of the river have been reduced, leading to the destruction of many aquatic plant and animal habitats and the deterioration of river ecosystems. This project plans to improve the flow of water through the Shinano River in the near future, and to release juvenile salmon into the river in Nagano and safely lead them downstream, while also establishing channels for them to swim upstream from Niigata back to Nagano once they have matured. Through this activity, it hopes to restore the natural ecological cycles of the Shinano River, returning it to its original form after a 70 year gap. Specific activities will include creating partnerships and working with organizations active in the Shinano/Chikuma River area, such as environmental conservation groups, citizen organizations, and fishery associations, building an environment for releasing salmon into the river through research and citizen participation, as well as holding symposiums.
Fields

Marine resources/food

Energy problem

Preservation of biodiversity and ecosystem
Grant year

FY2008 Activity Grants
Grant term

3 years
April 2009 - March 2012
Grant amount

18,500,000 yen
Activity region

Niigata Prefecture and the Shinano River region, Nagano Prefecture, Japan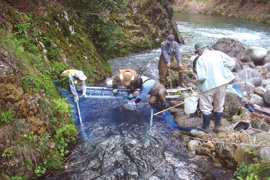 Overview of the Organization

Representative

Takashi Okuma, Representative Custodian

Establishment

1987

Establishment purpose

With cooperation from its members and a wide range of other individuals, Niigata Mizubenokai looks to support waterside-related environments, history, livelihoods, customs, welfare, education, industry, sports, recreation, disaster prevention, local safety initiatives, international exchange, and scientific research. It aims to contribute to community development and improving waterside areas in Japan and abroad by considering what these areas should be, and creating, using, and nurturing areas that are beautiful, lively and fun.

Main area of activity

Niigata Prefecture, Japan

Staff

2 part-time staff members, 220 members

Annual operating budget

7.73 million yen in 2006, 6.07 million yen in 2007, 8.21 million yen in 2008

WEB site

Recent activities

The group is engaged in monitoring waterside areas, participating in symposiums, holding study sessions and observation tours, hosting waterside events, holding planning meetings, sharing proposals and opinions on waterside issues, giving lectures on the waterside environment, participating in activities as part of a network for restoring the Kayoibune River, holding a lotus picking festival to encourage people to interact with nature in the Ramsar Convention-registered Sakata area, giving out 'Niigata Waterside Prizes' that encourage children to nurture and protect local waterside environments, supporting canal restoration story initiatives, restoring salmon to the Shinano/Chikuma River, surveying river water quality, holding waterside tours in Japan and overseas, and sharing waterside-related information.