The Mitsui & Co. Environment Fund
Introduction to Grant Projects
INDEX="459" NAME="Improving quality of life in Bangladeshi farming villages through water and sanitation initiatives" TYPE="活動助成," YEAR="2008年度," AREA="アジア," KIND="NPO," ORG="The Japan Association of Drainage and Environment"
The Japan Association of Drainage and Environment
Improving quality of life in Bangladeshi farming villages through water and sanitation initiatives
Activity grant
Project Description

30% of well water used for drinking in Bangladesh is contaminated with arsenic, and although various measures have been implemented by foreign aid organizations and the like, there has been no improvement in the situation. Surface water sources such as reservoirs can also be used, but surrounding toilet facilities are often inadequate, making it difficult to maintain sanitary conditions during times of flooding. Therefore, this project aims to introduce a mix of surface water filtration facilities and composting-style ecosan toilets in order to preserve the quality of water sources. Specifically this involves listening to locals to identify issues, holding awareness-raising meetings, planning, constructing facilities, monitoring, and supporting the creation of a self-sufficient management system. The project is being implemented in small farming villages in Jessore District, where the association carried out its previous ecosan toilet introduction project.
Grant year

FY2008 Activity Grants
Grant term

2 years
October 2008 - September 2010
Grant amount

3,800,000 yen
Activity region

Bangladesh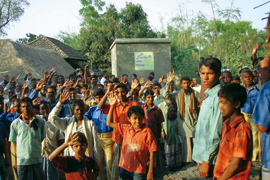 Overview of the Organization

Representative

Akira Sakai, Management Committee Chairperson

Establishment

1992

Establishment purpose

The Japan Association of Drainage and Environment aims to contribute to the development of societies with advanced water management and usage cultures by identifying sewage cultures that can be passed down to subsequent generations and gaining awareness of new issues in order to create and communicate new ways of living with water. To achieve this, the association carries out investigative research on sewage cultures, carries out awareness-raising activities, and participates in international cooperative activities to communicate Japanese water and sanitation conventions and knowledge to developing countries in an appropriate manner.

Main areas of activity

Japan, Bangladesh

Staff

2 full-time staff members, 254 full members

Annual operating budget

10.23 million in 2005, 9.18 million yen in 2006, 7.98 million yen in 2007

WEB site

Recent activities

In Japan, continous activities include publishing an annual journal, Sewage Culture Research (currently 19 issues published), and holding a bi-yearly sewage culture research presentation meeting (currently 9 events held), as well as holding section and branch meetings. It also received aid from other organizations to improve sanitation in farming villages in Bangladesh by introducing ecosan toilets, which it carried out over three years from 2004. As a result, it was able to confirm the usefulness of ecosan toilets and the adaptation to this technology by local users and society. Building on this success, it has continued this activity through projects such as grass-root initiatives organized by JICA, and has installed over 290 toilets.