The Mitsui & Co. Environment Fund
Introduction to Grant Projects
INDEX="51" NAME="Stop plastic waste from Arakawa before it goes into the sea! Measures to stop plastic waste" TYPE="活動助成," YEAR="2016年度," AREA="日本全国,関東," KIND="NPO," ORG="Arakawa Clean Aid Forum (NPO)"
Arakawa Clean Aid Forum (NPO)
Stop plastic waste from Arakawa before it goes into the sea! Measures to stop plastic waste
Activity grant
Project Description

There is concern that plastic waste is having an effect on the ocean's ecosystem. Our organization is developing activities to preserve the environment of Arakawa, and put a stop to marine pollution by preventing the supply of plastic rubbish from upstream. Firstly, an area where waste accumulation is particularly prevalent is chosen, and using a fixed-point camera and water gauge, factors behind this high build-up of waste are investigated. Based on these results, an effective collection method will be devised, and together with local residents, clean up events will be held. This will also raise awareness amongst local residents of the waste problem. The knowledge gained from these activities will be widely disseminated, and we will also highlight the necessity of measures to tackle plastic waste. [No. K16-0015]
Fields

Global Environment
Grant year

FY2016 Activity Grants
Grant term

3 years
From October 2016 to September 2019
Grant amount

3.5 million yen
Activity region

Arakawa area (Chichibu to Edogawa-ku, Koto-ku)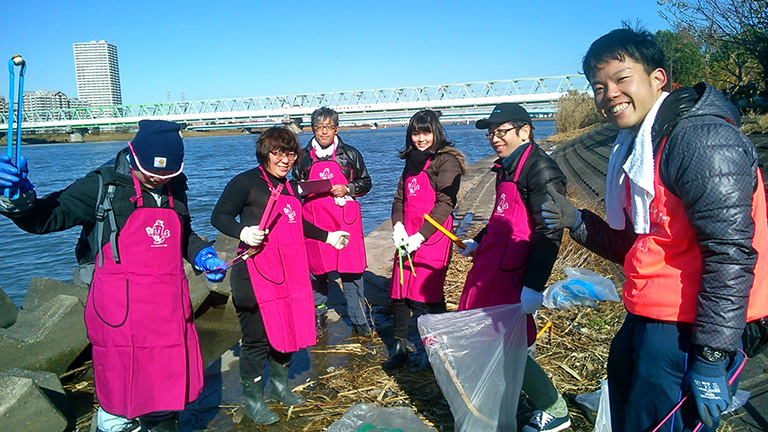 Overview of the Organization

Representative

Representative Director: Masato Sato

Enhance people's connection with the river and promotion of environmental conservation awareness amongst citizens through the cleanup of Arakawa
Through voluntary participation in activities by citizens, aim to realize partnerships with other sectors such as government, local council, and companies, as stipulated in Agenda 21
Establish citizen rights for the management of rivers, and promote environmental conservation activities by residents in the area surrounding Arakawa

Recent Activities

Establish model areas which have a high rate of plastic waste accumulation and, through the use of interval cameras and water level gauges, investigate the factors for this accumulation (landform, tides) and the most effective timing for collection. Target areas are so-called "hot spots," where waste continues to accumulate despite ongoing removal, and will be utilized as places where the Arakawa waste situation can be directly felt by local residents, through local clean-up efforts.

Establishment

1997

Staff

Number of Full-time employees: 3 / Number of Part timer: 1 / Number of Members: 107

WEB site

Voice of Representative

In recent years, pollution of the sea with plastic waste has become a problem as the waste flows down the river and is deposited in the sea. The most important thing is to prevent the source of the occurring rubbish- however, there is already plastic waste in the river from many years before. As much as possible, the early and effective collection of rubbish will protect the environment of the sea and river.