The Mitsui & Co. Environment Fund
Introduction to Grant Projects
INDEX="55" NAME="Sustainable regional development based on spiritual culture — Art and tourism connecting regions with the world" TYPE="活動助成," YEAR="2016年度," AREA="日本全国,東北," KIND="大学," ORG="Wakayama University, Faculty of Tourism"
Wakayama University, Faculty of Tourism
Sustainable regional development based on spiritual culture — Art and tourism connecting regions with the world
Activity grant
Project Description

After the Great East Japan Earthquake, the whole village of Iitate-mura in Fukushima Prefecture was forced to evacuate. Adorned on a panel painting of a shrine was a much-revered wolf. This painting was destroyed in a fire, but with the assistance of a grant from this fund, was fully restored in 2016. Now, this art will be introduced to those both in Japan and overseas as a vehicle of portraying the spiritual culture of the area. Specifically, this includes plans for art events such as exhibitions on the theme of "thinking and learning about the connection between people and the land," and inviting international artists to display at the exhibitions. A book is also going to be published on the topic. Through these activities, the possibility of community revitalization using spiritual culture as a resource is displayed. [No. K16-1006]
Fields

Ecosystems and the Symbiotic Society
Grant year

FY2016 Activity Grants
Grant term

3 years
From October 2016 to September 2019
Grant amount

4.164 million yen
Activity region

Iitate Village, Soumagun, Fukushima Prefecture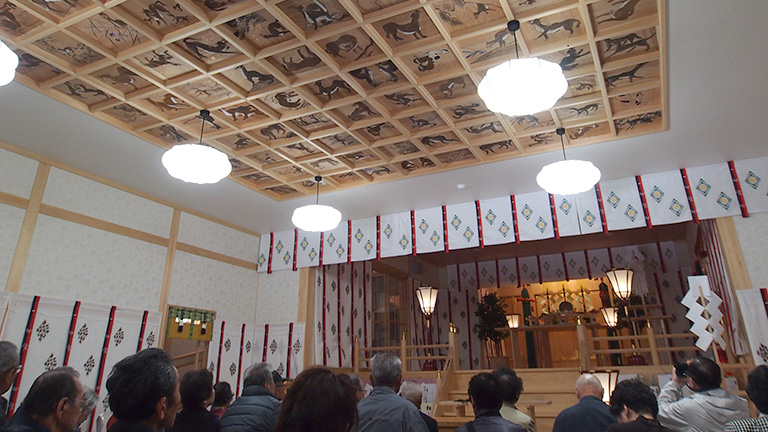 Overview of the Organization

Representative

Dean and Professor: Professor Takehiro Fujita
Being the only national university in Wakayama Prefecture which has fostered the rich history and environment of places such as Takano and Kumano World Heritage Site, Wakayama University, as a centre for academic culture and also being connected with the region, carries the mission and role to promote academic research which contributes to regional development and develop personnel who can be a driving force for regional revitalization. In order to realize this, the Tourism Faculty aims to cultivate true global personnel who possess deep local identity (an individual's sense of belonging to a particular area).

Recent Activities

The Tourism Faculty promotes education and tourism research as a state-of-the-art academic field which truly contributes to a sustainable society by ascertaining the possibility of tourism expected as a strategic industry from a hospitality and marketing standpoint, and through the realization of a multi-cultural society and urban-rural exchange and cooperation. Globalization through participation and collaboration with universities in various countries in the UN World Tourism Barometer as well as local contribution based around regional collaboration, theoretically and practically, education and research activities are continuing with an interdisciplinary emphasis.

Establishment

2008

Staff

Wakayama University: 548

WEB site

Voice of Representative

A Previous project I worked on was restoring the wolf ceiling painting, where support was provided for local reconstruction from an artistic standpoint. Previous projects have used regions' best resources for tourism, and moreover, the Faculty would like to support regions from a viewpoint of international exchange which creates new perspectives.