The Mitsui & Co. Environment Fund
Introduction to Grant Projects
INDEX="58" NAME="Social development of Tangsi Jaya hamlet using renewable energy" TYPE="活動助成," YEAR="2016年度," AREA="アジア," KIND="海外の団体," ORG="Darma Persada University (recommended by overseas office)"
Darma Persada University (recommended by overseas office)
Social development of Tangsi Jaya hamlet using renewable energy
Activity grant
Project Description

The main activity of the project is supplying electricity from the exisitng micro-hydro power plant to the community and to the Coffee Processing Center during the daytime. The electricity will be used to process the harvested coffee berries from the established coffee plantation into dried coffee beans. Since the existing processing facilities are old and under corrosion condition, the project would procure new facilities,beside constructing new processing building, and building a storage house for dried coffee beans. All the facilities will be managed by the existing Rimba Lestari cooperative. Other project activities would be to conduct survey in order to construct the I/O Table for the hamlet so that its economic structure can be obtained and future direction of development then can be recommended. [No. K16-0703]
Fields

Ecosystems and the Symbiotic Society
Grant year

FY2016 Activity Grants
Grant term

2 years
From October 2016 to September 2018
Grant amount

IDR 1,198,225,000
Activity region

Tangsi Jaya hamlet, West Java, Indonesia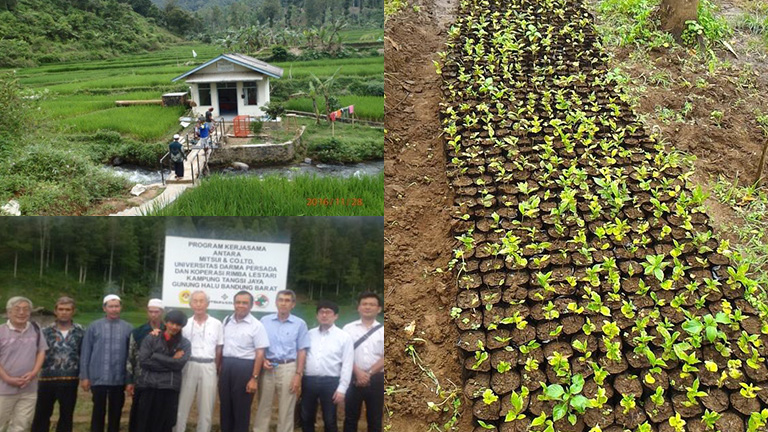 Overview of the Organization

Representative

President of the University: Solihin Dadang

As a token of appreciation to the govenment and people of Japan and to the governmnt and the people of Indonesia for allowing us to study in Japan.
As a living monument for the country where all students from all over Indonesia can come for study
Wll become university with priority of development base on trilingual, monozukuri and Reneable Energy.
Was established by former Japanese university alumni* Is maneged under Melati Sakura Foundation

Recent Activities

DPU is puttingpriority in teaching, research and public services on trilingual (Japanese, Enginlish and Indonesian) Monozukuri and renewable energy. Has established MoUs withe several universities in Japan, among others, the Takushoku university, Saga University, Fukuoka Women University, Teikyo university, Kaetsu university Osaka Prefetcrual university and Hiroshima university for student exchange and collaborative reseach.

Establishment

1986

Staff

Number of Full-time employees: 182 / Number of Part timers: 93

WEB site

Voice of Representative

Mr Opan Sopandi the Manager of Rimba Kestarai cooperative sayas that they feel happy and tahnkful of theencironment grant from Mitsui & Co., Ltd. The people of Tangsi Jaya arealso very happy and generous and will fully support the sucess of the project. The highly expected that the project will surely help the economic growth of Tangsi Jaya hamlet. They also hope that with the project the economic condition of Tangsi Jaya Jaya peolpe willbe imprced.