The Mitsui & Co. Environment Fund
Introduction to Grant Projects
INDEX="375" NAME="Regional revitalization project including aquaculture and water release activities for the conservation of the ecosystem endemic to Lake Biwa" TYPE="活動助成," YEAR="2009年度," AREA="日本全国,近畿," KIND="NPO," ORG="Global Human"
Global Human
Regional revitalization project including aquaculture and water release activities for the conservation of the ecosystem endemic to Lake Biwa
Activity grant
Project Description

In the past 30 years, freshwater willow gudgeon catch found in Lake Biwa has drastically decreased by 60% (around 6t) as a result of the increase in non-native fish species and the decrease of reed beds. It has been classified as a 1A endangered species and is it now urgently necessary to restore the ecosystem by aquaculture and water release activities. This organization utilizes devastated abandoned fields, fallow fields, and rice paddies that are no longer cultivated and former homeless people, unemployed and internet café refugees support the egg hatching and cultivation project in willow gudgeon fields and ponds. With these activities, new rice fields can be cultivated in abandoned fields and paddies, raised willow gudgeon fish can be sold, and also released in Lake Biwa. In addition, by promoting our activities as a model for regional revitalization we can advertise rice field cultivation and hold guidance and training seminars on aquaculture cultivation in the region. In light of this we aim to restore willow gudgeon catch and remove it from classification as an endangered species.
Fields

Marine resources/food

Preservation of biodiversity and ecosystem
Grant year

FY2009 Activity Grants
Grant term

3 years
October 2009 - September 2012
Grant amount

7,700,000 yen
Activity region

Takashima, Shiga Prefecture and its surrounding municipalities, Japan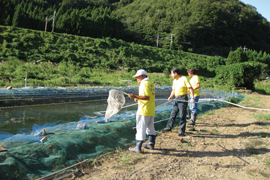 Overview of the Organization

Representative

Hideo Takahashi, President

Establishment

1992

Establishment Purpose

(1)Protection of ecosystem with the coexistence of people and nature (2) Revitalization of Japan's original landscape that is rapidly being affected by local impoverishment, decline, depopulation, ageing, birth rate decline, poverty, etc. and implementing regional revitalization and regional promotion measures (3) To support independence and reintegration in society and provide a specific working place for those who are affected by social disparities and forced to leave society, workplace, families and are called homeless, unemployed or internet café refugees.

Main areas of activity

Mainly Shiga Prefecture, Kyoto, Okayama Prefecutre and Fukui Prefecture

Staff

25 full-time staff members, 6 part-time staff members, 132 full members

Annual operating budget

65.17 million yen in 2006, 113.69 million yen in 2007, 142.12 million yen in 2008

WEB site

Recent activities

(1) Hatching, collecting eggs, farming aquaculture and water release activities for freshwater fish unique to Lake Biwa utilizing abandoned fields, rice paddies and fallow fields
(2) Providing free and low cost housing for homeless, unemployed and internet café refugees and laid off workers in order to create new employment to establish living independence and social rehabilitation
(3) Production and sales activities of forest biomass energy using thinned wood from abandoned forests.
(4) The project will construct a new regional community house and build a safety net that allows rural elderly people and socially vulnerable people to live safely and with a sense of security.