The Mitsui & Co. Environment Fund
Introduction to Grant Projects
INDEX="334" NAME="Veterinary health care with the aim of restoring endangered Tsushima leopard cats to the wild" TYPE="活動助成," YEAR="2010年度," AREA="日本全国,九州・沖縄," KIND="NPO," ORG="Conservation & Animal Welfare Trust (CAW Trust)"
Conservation & Animal Welfare Trust (CAW Trust)
Veterinary health care with the aim of restoring endangered Tsushima leopard cats to the wild
Activity grant
Project Description

The Tsushima leopard cat, a species found only on Tsushima island in Nagasaki Prefecture, is on the brink of extinction, and the current population is thought to comprise just 80-110 cats. The Ministry of the Environment is engaged in conserving the species through a plan to breed individuals in captivity and then release them into the wild, but there is a significant threat from habitat competition with domestic cats and infectious diseases with high fatality rates, such as feline immunodeficiency virus (FIV). In order to avoid extinction, veterinary care and other measures will be crucial in preventing infection from domestic cats and preventing deaths in the released population from traffic accidents and the like. This project will eradicate infectious diseases from the habitat area, ensure that domesticated animals in the region are being kept appropriately, and implement veterinary health care measures such as emergency care for protected populations after traffic and other accidents, and support for animals released back into the wild. These measures will contribute to avoiding the extinction of the Tsushima leopard cat and creating a breeding population, as well as provide important information for taking measures against invasive species all over the world.
Fields

Preservation of biodiversity and ecosystem
Grant year

FY2010 Activity Grants
Grant term

3 years
October 2010 - September 2013
Grant amount

12,350,000 yen
Activity region

Tsushima, Nagasaki Prefecture, Japan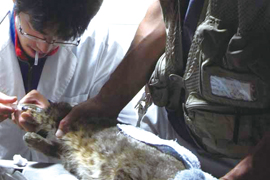 Overview of the Organization

Representative

Atsushi Sugitani, Director

Establishment

2004

Establishment purpose

The CAW Trust was established to carry out initiatives such as raising awareness and providing information regarding wild animal conservation and appropriate ways to keep domesticated animals, and to contribute to environmental conservation, and public and animal welfare.

Main area of activities

Tsushima, Nagasaki Prefecture; Ogasawara, Tokyo; and other areas of Japan

Staff

5 full-time staff members, 9 full members

Annual operating budget

40,000 yen in 2009

WEB site

Recent activities

On Tsushima and Ogasawara:

(1) Treating, restoring, raising and breeding rare animal populations in order to avoid extinction
(2) Treating and restoring populations of animals that co-exist with rare animal species
(3) Ensuring that domesticated animals in areas that are habitats for rare species are being kept appropriately through veterinary care, fostering expertise in wild animal veterinary care, and cultivating specialists.