The Mitsui & Co. Environment Fund
Introduction to Grant Projects
INDEX="309" NAME="Aso flower field regeneration project Step II ~ Regeneration of biodiversity rich grasslands by felling neglected planted forests" TYPE="活動助成," YEAR="2010年度," AREA="日本全国,九州・沖縄," KIND="NPO," ORG="Aso flower field association "
Aso flower field association
Aso flower field regeneration project Step II ~ Regeneration of biodiversity rich grasslands by felling neglected planted forests
Activity grant
Project Description

The grassland of Aso is decreasing due to ageing farmers and the deterioration of the livestock industry due to the liberalization of beef. If the situation continues in this way the grassland would vanish in ten years' time which creates a danger of extinction of organisms growing and living in the grassland. The organization continues trust activities focusing on the regions where rare herbivorous plants are concentrated in the Aso area – for the past five years since 2004, we have conducted traditional grassland management techniques such as grass cutting and burning to clear 5 ha and ultimately regenerate into a biodiversity rich grassland. This project includes felling forests planted with Japanese cedar trees that have been neglected for 50 years and returning it to grassland by burning the surrounding abandoned land – further work includes grass cutting and collection in order to regenerate the grassland to an area where flowers can grow. After burning the area, vegetation and flora is investigated in collaboration with local farmers, universities and related organizations in order to accumulate scientific data including strain and seed of lilies and adonis. This contributes to the regeneration of grasslands and maintains the biodiversity of the Aso grassland vegetation, restoring the old grassland system and increasing the opportunity for use of grassland by local people.
Fields

Preservation of surface soil and forests

Preservation of biodiversity and ecosystem
Grant year

FY2010 Activity Grants
Grant term

3 years
October 2010 - September 2013
Grant amount

4,750,000 yen
Activity region

Pro Natura Reserve Aso flower field trust (Nojiri, Takamori, Aso District, Kumamoto Prefecture), Japan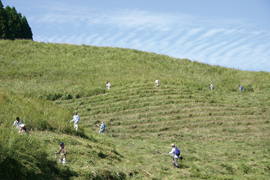 Overview of the Organization

Representative

Aiko Shiotani, President

Establishment

2004

Establishment purpose

The project aims to prevent extinction and regenerate species growing in Aso and continue the growth of wild flowers in Aso for the future. This is achieved by widely educating the public on the rich culture and botanical value of the wild flowers in Aso that have grown amongst the coexistence between people and nature, and by engaging in regeneration and conservation of wild flowers in the Aso field and by sustainable conservation of biodiversity such as animals and the grassland ecosystem unique to the Aso area generated over a long period of time.

Main areas of activity

Aso (Kumamoto Prefecture)

Staff

7 part-time staff members, 108 full members

Annual operating budget

4.19 million yen in 2007, 3.13 million yen in 2008, 3.4 million yen in 2009

WEB site

Recent activities

By restoring the grassland, which was abandoned for years and had become a bush, back to its original form, we are conducting activity to regenerate the flower field for wildflowers to grow in the form of the Aso flower field regeneration project. With guidance from local farmers, we are conducting old-fashioned grassland management including making wildfilers, burning and grass cutting and collection - we are achieving this by looking for volunteer members. In addition, the Aso Flower Observation Society is held 3 times every year in order to observe the state of the regenerated flower field and observe the vegetation.