The Mitsui & Co. Environment Fund
Introduction to Grant Projects
INDEX="348" NAME="A social engagement project providing environmental education through theater workshops" TYPE="活動助成," YEAR="2010年度," AREA="日本全国,近畿,九州・沖縄," KIND="NPO," ORG="Fringe Theater Project (FTP)"
Fringe Theater Project (FTP)
A social engagement project providing environmental education through theater workshops
Activity grant
Project Description

FTP engages children and performers in creating fun projects in order to encourage communciation between children with a strong interest in environmental issues and those who are less interested, get them involved with these issues, and raise awareness by holding performances. This project will develop shows that can be used in elementary and junior high schools based on content created through workshops titled 'Environment Police 220X' that were held over three years from 2007, cultivate instructors with the aim of having practitioners in each region, hold theater workshops in each region, and then assess and research the outcome in order to develop government policy recommendations. It will aim to make a system based on the experience from workshops already running in Kyoto, Osaka, and Nara, and work to involve government representatives. Through the theater creation process it hopes to foster communication between children with different levels of environmental awareness and raise the overall awareness level, as well as educate the people who watch the performances.
Fields

Climate change

Energy problem

Preservation of biodiversity and ecosystem
Grant year

FY2010 Activity Grants
Grant term

2 years
October 2010 - September 2012
Grant amount

5,573,120 yen
Activity region

Across West Japan (Kyoto, Osaka, Nara, Okayama, Fukuoka, Mie, etc.)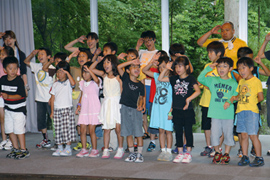 Overview of the Organization

Representative

Akiko Furukawa, Director

Establishment

1999

Establishment purpose

Modern Japanese society contains people with a diverse range of views, and the power of theater to move people is appreciated by individuals regardless of age, sex, or location. Fringe theater (usually performed at venues with 300 or fewer seats) is an independent genre of theater that provides an important foundation for the theater scene as a whole. However, performances are small-scale, making it unsuitable for profiteering, and it is being cast aside by economic growth. The Fringe Theater Project was established so that the performers themselves can innovate and develop fringe theater.

Main areas of activity

Across Japan, especially the Kansai region

Staff

1 full-time staff member, 3 part-time staff members, 11 full members

Annual operating budget

9.40 million yen in 2007, 18.73 million yen in 2008, 15.92 million yen in 2009

WEB site

Recent activities

FTP supports and promotes performers and creators working in the fringe theater genre, implements environmental initiatives, creates opportunities for regular people to enjoy high quality theater skills, and provides a rich, creative environment for performers with the aim of creating a better society. In addition to performing crucial advertising and last-minute production tasks, recently it has been developing theater as a means for educating on topics such as environmental issues, and crime and fire prevention.