The Mitsui & Co. Environment Fund
Introduction to Grant Projects
INDEX="365" NAME="Creating activities in rural woodland and coastal areas on the Noto Peninsula with the aim of sustainable regional development" TYPE="活動助成," YEAR="2009年度," AREA="日本全国,中部," KIND="大学," ORG="Kanazawa University Center for Regional Collaboration Satoyama Satoumi Project"
Kanazawa University Center for Regional Collaboration Satoyama Satoumi Project
Creating activities in rural woodland and coastal areas on the Noto Peninsula with the aim of sustainable regional development
Activity grant
Project Description

As Japan's population ages, the decline of small villages and hamlets in rural woodland and coastal areas across the country is becoming an issue, and there is a need to increase exchange with cities in a range of fields, including human resources, information, and economy. Kanazawa University has been engaged in tackling this issue and regional revitalization for many years, and has formed a network including local governments, agricultural and marine producers, regional industry, NPOs, and other universities. This project aims to select areas for operating 'rural woodland and coastal activities', focusing on Suzu, Ishikawa Prefecture, where the university has a base. The driving force of the project will be a 'collaboration director' who will be hired and assigned to create businesses that take advantage of resources available in rural woodland and coastal areas, such as tourism and agribusiness. Over three years, 1,000 youths and students will be brought over to the Noto Peninsula from major cities by universities, companies, and governments to take part in these conservation, exchange, and educational research activities. Getting a diverse range of youth to participate in this kind of initiative will improve information flow and diversify and widen the horizons and life choices of the participants, while the economic and pyschological benefits to the region will lead to the creation of new, spontaneous activities.
Fields

Marine resources/food

Preservation of surface soil and forests

Preservation of biodiversity and ecosystem
Grant year

FY2009 Activity Grants
Grant term

3 years
October 2009 - September 2012
Grant amount

24,000,000 yen
Activity region

Three cities and two towns on the Noto Peninsula, Japan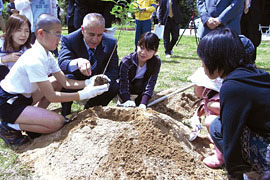 Overview of the Organization

Representative

Koji Nakamura, Vice Principal (responsible for regional collaboration) and Satoyama Satoumi Project representative

Establishment

1999

Establishment purpose

Kanazawa University's mission is to educate, conduct research, and contribute to the community, and it aims to be a 'center of knowledge for people of the region'. The Center for Regional Collaboration is the contact point for this, and is engaged in activities in two areas - regional collaboration and lifelong learning. The Satoyama Project is being advanced as a regional collaboration initiative and includes a 'rural woodland nature school' on the university's Kakuma campus, as well as a 'rural woodland and coastal nature school' (2006-2009, Mitsui & Co. Environment Fund) and a 'Noto woodland meister cultivation program' on the Noto Peninsula. The project aims to cultivate individuals, conserve the environment, and make proposals for creating sustainable regional societies that take advantage of local resources.

Main areas of activities

Kanazawa, Noto Peninsula, Hokuriku, Shinshu, other areas of Japan

Staff

2 full-time staff members, 11 part-time staff members

Annual operating budget

25 million yen in 2008, 140 million yen in 2009, 170 million yen in 2010

Recent activities

'Research and educational seeds for regional needs'. The center works to use the fruits of its research and educational activities for the benefit of the region, and the success of regional activities in turn benefits the center. The nature school program collects local data on subjects such as the biodiversity of regional woodland and forests and shares it with the university to advance research and educational activities. The Noto woodland meister program aims to revitalize the Noto region by using university teaching methods to cultivate local human resources. The university believes that conducting this kind of exchange with people in the region will increase collaborative effects and accelerate the building of partnerships. In addition to facilitating exchange between urban areas and the Noto region, the Satoyama Satoumi Project, which is being funded by the Mitsui & Co. Environment Fund, aims to encourage cross-generational exchange between youths and students and Noto residents, thereby creating networks and fostering regional revitalization plan proposals, invigorating the spontaneous creation of business models.