The Mitsui & Co. Environment Fund
Introduction to Grant Projects
INDEX="529" NAME="Surveying and creating a network of regional rice terrace conservation organizations" TYPE="活動助成," YEAR="2007年度," AREA="日本全国," KIND="NPO," ORG="Tanada Network"
Tanada Network
Surveying and creating a network of regional rice terrace conservation organizations
Activity grant
Project Description

In addition to producing rice, rice terraces also play a role in conserving water resources, biodiversity, and scenery. As environmental conditions worsen due to the abandonment of agricultural land, public interest in these terraces as human-managed natural landscapes is increasing. This project intends to survey 30 organizations that are involved in conserving rice terraces across Japan on topics such as corporate partnerships and conservation initiatives, announce the results of the survey at a symposium, and create a network of these organizations. A report will be compiled and published after three years.
Fields

Marine resources/food

Preservation of biodiversity and ecosystem
Grant year

FY2007 Activity Grants
Grant term

3 years
April 2008 - March 2011
Grant amount

5,600,000 yen
Activity region

Mountainous areas of Japan containing rice terraces, from Tohoku to Kyushu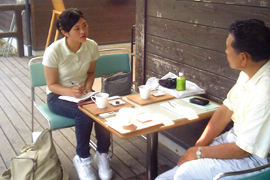 Overview of the Organization

Representative

Minehiro Nakashima, Representative

Establishment

1995

Establishment purpose

If you imagine a river, rice terraces would be upstream and towns and cities downstream. If the upstream section is damaged, the downstream section suffers as well. Tanada Network finds various ways to connect rice terrace areas that need support with urban residents who want to support them, such as conducting farming experiences and support activities in these areas, as well as raising awareness of their diverse functions. It aims to contribute to the creation of a sustainable, recycling-based society by forming bonds of mutual understanding and cooperation between people in rural and urban areas.

Main areas of activity

Tokyo, Niigata Prefecture, Tochigi Prefecture, Gifu Prefecture, and other areas of Japan

Staff

1 full-time member, 3 part-time members, 260 full members

Annual operating budget

5.95 million yen in 2005, 5.09 million yen in 2006, 7.27 million yen in 2007

WEB site

Recent activities

(1) Rice paddy experiences, agricultural support: organizing rice cultivation experiences and restoring abandoned paddies in Tokamachi, Sado, and other areas of Niigata Prefecture.
(2) The Biotope Project: conserving the ecosystems of rice paddy biotopes in Gifu and Tochigi Prefectures. Holding nature observation tours.
(3) Rice Terrace festival: encouraging networking by providing a venue for rice terrace conservation organizations from across the country and urban residents to meet, as well as a forum for the leaders of these organizations to exchange views.
(4) CSR activities: coordinating corporate CSR initiatives in rural areas.
(5) Promotion: sharing information on rice terraces through the Tanada Network website and The Wind that Blows through the Rice Terrace newsletter.
(6) The Rice Terrace Conservation Organization Survey Project: compiling a database on the status of rice terrace conservation organizations across Japan and cultivating various routes for supporting rice terrace areas by sharing it with the public.