The Mitsui & Co. Environment Fund
Introduction to Grant Projects
INDEX="528" NAME="Forest conservation through local participation in the Makwanpur District of Nepal" TYPE="活動助成," YEAR="2007年度," AREA="アジア," KIND="NPO," ORG="SOMNEED"
SOMNEED
Forest conservation through local participation in the Makwanpur District of Nepal
Activity grant
Project Description

Increased food production in response to the sudden growth in Nepal's population has led to forests protecting water sources being converted into arable land, and this is resulting in frequent disasters such as water exhaustion, soil runoff, and flooding. This project is based in the Makwanpur District, where SOMNEED has been developing sustainable agricultural development projects since 2002, and aims to encourage local residents to organize themselves into 'forest use groups' to work with the government regarding the use and management of forests, and shift to shared resource management methods that conserve and restore forests. Specifically, this will involve actions such as cultivating instructors to teach skills, facilitating the creation of forest use groups, tree planting in areas around water resources, implementing erosion control measures, and promoting the project in other regions.
Fields

Preservation of surface soil and forests
Grant year

FY2007 Activity Grants
Grant term

3 years
July 2007 - June 2010
Grant amount

9,630,000 yen
Activity region

Makwanpur District, Nepal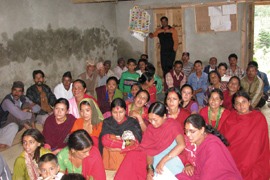 Overview of the Organization

Representative

Nobuaki Wada
Toyokazu Nakata
Joint representatives

Establishment

1993

Establishment purpose

SOMNEED was established to support efforts by the poorest populations in developing countries, such as those in farming villages, to become self-sufficient, and encourage Japanese to rethink about the way we live by participating in these activities. There is often some phenomenon that is contributing to poverty in these regions, and by developing partnerships with local people, SOMNEED aims to work with them to identify and implement measures for solving the problems created by these phenomenon. Also, these issues are not just limited to developing countries, but need to be recognized by the world as a whole, including developed countries like Japan.

Main area of activity

India, Nepal, Japan (Hida region, Gifu Prefecture)

Staff

6 full-time staff members, 3 part-time staff members, 46 full members

Annual operating budget

40.66 million yen in 2005, 56.71 million yen in 2006, 107.35 million yen in 2007

Recent activities

Activities are focused around character building, forest building, and community building.

(1) Teaching various skills to communities to enable them to build a future in a changing environment (citizen led problem analysis, creating action plans, creating microcredit schemes, etc.)
(2) Shifting community subsistence to usage methods that conserve and restore forests (small-scale irrigation, small-scale energy distribution, reforestation, conserving biodiversity, etc.)
(3) Encouraging citizen-led region-building (government collaboration, creating and managing citizen organizations, etc.)
The initiatives listed above are all implemented based on partnership. Training is also held for individuals and organizations (including educational institutions) in support of these initiatives.