The Mitsui & Co. Environment Fund
Introduction to Grant Projects
INDEX="444" NAME="Constructing a green technology database in order to create resource-recycling communities in developing countries" TYPE="活動助成," YEAR="2008年度," AREA="日本全国,アジア," KIND="公益法人," ORG="Global Environment Centre Foundation (GEC)"
Global Environment Centre Foundation (GEC)
Constructing a green technology database in order to create resource-recycling communities in developing countries
Activity grant
Project Description

In order to solve the increasingly urgent issue of waste disposal in developing countries, companies and regional governments in these countries need to turn their regions into eco-towns with the aim of creating recycling-based communities. As a part of these efforts, this project aims to encourage and support eco-town planning iniatives by creating and making available a database providing information on green technology and systems, as well as other relevant topics. Specifically, this will involve research into the green technology requirements needed to advance plans to turn Penang, Malaysia, and Bandung, Indonesia, into eco-towns. This will be followed with a study of technologies being used in eco-towns in Japan to see how its application fits with the needs identified in the previous research, detailing factors such as the background, characteristics, usage methods, and transferability of these technologies. A substantial database will be built containing this data, as well as information on topics such as Japanese regulations and measures regarding waste disposal, and will be presented to the two cities and made available online.
Fields

Energy problem
Grant year

FY2008 Activity Grants
Grant term

3 years
April 2009 - March 2012
Grant amount

18,290,000 yen
Activity region

Penang, Malaysia; Bandung, Indonesia, eco-towns in Japan (26 locations)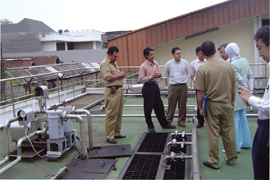 Overview of the Organization

Representative

Hideo Miyahara, President

Establishment

1992

Establishment purpose

GEC was established with the aim of contributing to environmental conservation around the world, particularly in developing countries, by participating in global environmental initiatives and leveraging the wealth of conservation knowledge and experience found in Japan to support initiatives being implemented in large cities in developing countries under the UN Environment Program (UNEP).

Main areas of activity

Japan and overseas

Staff

23 full-time members

Annual operating budget

713.34 million yen in 2006, 627.40 million yen in 2007, 262.16 million yen in 2008

Recent activities

GEC conducts two types of activities - activities that support UNEP initiatives, and activities that provide a foundation for this support or advance global cooperation.

(1) Activities that support UNEP initiatives
a) Developing environmentally sound industry and eco-towns in the Asia Pacific Region
b) Disseminating information on environmentally sound technology (EST)
c) Addressing city water issues (websites on water and sanitation)
(2) Activities that provide a foundation for supporting UNEP initiatives or advance global cooperation
a) Researching CDM/JI initiatives, etc.
b) Conducting Japan International Cooperation Agency (JICA) group training
c) The Ha Long Bay Project in Vietnam
d) Holding various international symposiums, etc.