The Mitsui & Co. Environment Fund
Introduction to Grant Projects
INDEX="567" NAME="Mississippi River, from Headwaters to Bay Campaign" TYPE="活動助成," YEAR="2006年度," AREA="北米," KIND="海外の団体," ORG="National Audubon Society (recommended by overseas office)"
National Audubon Society (recommended by overseas office)
Mississippi River, from Headwaters to Bay Campaign
Activity grant
Project Description

Two programs being conducted as part of the ecosystem conservation and regeneration activities for the Mississippi Basin "Mississippi River, from Headwaters to Bay Campaign" being promoted by this organization.
(1)Drafting of a comprehensive recovery plan for the Mississippi River. Activities are deployed placing a particular emphasis on bird life and the loss of wetlands, which has recently become a serious issue, and covers a wide area of hypoxic waters in the Gulf of Mexico to develop existing conservation and regeneration activities.
(2)Creating the homepage and PR materials for the Great River Birding Trail where this organization has set up 500 bird watching locations. Connecting citizens and the river and establishing a support system by conducting PR for succesful case studies of conservation activities.
Fields

Preservation of biodiversity and ecosystem
Grant year

FY2006 Activity Grants
Grant term

3 years
July 2006 - June 2009
Grant amount

49,950,000 yen
Activity region

Mississippi River Basin, United States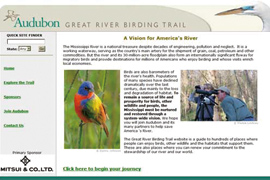 Overview of the Organization

Representative

John Flicker, President

Established

2003

Establishment purpose

The mission of this organization is to benefit mankind and establish global ecosystems by conserving and restoring natural ecosystems, focusing on birds and other wildlife and their habitats.

Main areas of activity

United States, Latin America, Carribbean

Staff

558 full-time staff member, 146 part-time staff members, 500,000 full members

Annual operating budget

7.732 billion yen in 2005, 7.751 billion yen in 2006, 8.355 billion yen in 2007

WEB site

Main recent activities

This organization, with around 500,000 members and 490 affiliates is one of the largest civic environmental conservation groups in the United States, and the scope of its activities include Latin America and the Caribbean region. The programs of this organization identify the most important regions for birds and wildlife and revitalize efforts for protection, monitoring and restoration of the region by citizens. The network of the Audubon Nature Center, which is spread throughout the United States continues to expand and provides high-quality education programs to familiarize both adults and children with nature for an audience in excess of one million visitors annually. This organization, which continues to have a major influence on environmental policy issues, leverages its scientific approach to allow it to be influential over a broad range of policy issues.