The Mitsui & Co. Environment Fund
Introduction to Grant Projects
INDEX="568" NAME="Research to improve the habitat of kirikuchi char, the world's southernmost salvelinus char population" TYPE="活動助成," YEAR="2006年度," AREA="日本全国,近畿," KIND="NPO," ORG="Wetlands International Japan"
Wetlands International Japan
Research to improve the habitat of kirikuchi char, the world's southernmost salvelinus char population
Activity grant
Project Description

This project aims to conserve kirikuchi char, a salvelinus char genus that is only found in the upstream areas of the Totsukawa River on the Kii Peninsula. The number of kirikuchi habitats is shrinking and it has been designated as an endangered species by the Japan Fisheries Agency and is being protected as a natural monument by Nara Prefecture. A possible reason for this decrease in habitats is an influx of sediment filling in the river's troughs and shallows, flattening the river bed. Over the past two years, the project has carried out experiments to identify breeding characteristics, and it will now create artificial troughs using gabions and waste from tree-thinning in order to expand conservation efforts, make them more effective, and encourage population growth.
Fields

Preservation of surface soil and forests

Preservation of biodiversity and ecosystem
Grant year

FY2006 Activity Grants
Grant term

1 year
July 2006 - June 2007
Grant amount

1,600,000 yen
Activity region

The Kumano River System, Yoshino, Nara Prefecture, Japan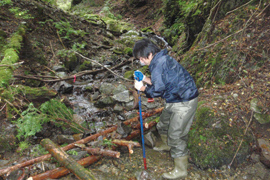 Overview of the Organization

Representative

Tatsuichi Tsujii, Chairman

Establishment

1977

Establishment purpose

Wetlands International Japan was established in 1977 as the Japanese chapter of the International Waterfowl and Wetlands Research Bureau (IWRB), the organization behind the Ramsar Convention. It aims to maintain and restore the natural resources and biodiversity of the wetlands that are a crucial part of both land and marine environments. In 1995 it changed its name to Wetlands International Japan in line with IWRB's reorganization into Wetlands International, and in 2004 it was designated as an NPO.

Main areas of activity

Asia and Oceania, with a focus on Japan

Staff

5 full-time staff members, 1 part-time staff member, 15 full members

Annual operating budget

101.38 million yen in 2005, 104.85 million yen in 2006

Recent activities

Based on the principle that wetlands are an indispensible source of water for human activity, Wetlands International Japan is engaged in conserving and raising awareness of crucial wetlands and wetland ecosystems in both Japan and overseas, and carries out research, information provision and awareness-raising activities to protect environments worldwide.