The Mitsui & Co. Environment Fund
Introduction to Grant Projects
INDEX="275" NAME="Reconstruction support activities aimed at an environmental conservationist-type regional rejuvenation." TYPE="活動助成," YEAR="2011年度," AREA="日本全国,中部," KIND="大学," ORG="Faculty of Tourism and Environmental Studies, Nagano University."
Faculty of Tourism and Environmental Studies, Nagano University.
Reconstruction support activities aimed at an environmental conservationist-type regional rejuvenation.
Activity grant
Project Description

Dispatch teachers and student volunteers to Sakaemura that was severely damaged by the Northern Nagano earthquakes(EDS: of 2011 and 2014), and in addition to carrying out ecosystem friendly agricultural and forestry, the reconstruction of the commercial, industrial and tourism industries, along with comprehensive reconstruction support, such as the re-establishment of human and social relations, we will also accept into Nagano Prefecture those engaged in agricultural and forestry who were affected by the Fukushima disaster, and cooperate with universities ad regional organizations to establish a community-wide system for accepting such victims, and create a sustainable regional rejuvenation model. Specifically, the ongoing dispatch of volunteers to Sakaemura, humane support activities, such as the publishing of a communication paper at evacuation centers, and furthermore to support a sustainable regional rejuvenation plan, gather and transmit migration information, establish a comprehensive migration system in cooperation with regional organizations, develop a regional consensus through the holding of lectures and symposiums in cooperation with public halls, and implement support for migrant and regionally-based regional rejuvenation mechanisms, such as public and agricultural and corporations.
Grant year

FY2011 Activity Grants
Grant term

3 years and 1 month
September 2011 - September 2014
Grant amount

8,979,000 yen
Activity region

Sakaemura, Ueda City, Nagano Prefecture, Japan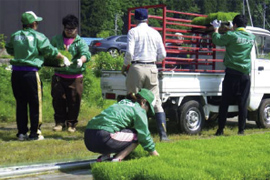 Overview of the Organization

Representative

Professor Mutsumi Furuta

Established

1966

Establishment Purpose

Honshu University was a publicly-built-privately operated university established by Shiodamachi prior to the amalgamation with Ueda City, and Nagano University, which is its successor, advocates a regionally-based Practice of Academic Theories in Daily life. And with small participant number seminars at its center, the university also emphasizes a liberal arts education that aims to Develop a Broad Social Point of View without Focusing only on Specialized and Technical Education. The spirit of the Shinano Free University once established in this area, namely, Self- Study and Self-Improvement are the educational targets pursued by the university.

Main areas of activity

Ueda City, Nagano Prefecture.

Staff

90 full-time staff members

Annual Business Operations: (Current Revenue)

325,641 million yen in 2008, 257, 014 million yen in 2009, 235,560 million yen in 2010

WEB site

Association

Sakaemura Reconstruction Support Mechanism Yui

Recent activities

To value the roots of our establishment as a university based in the community from birth, and to be involved in the following regional contribution activities:

(1) To host lectures for the enjoyment of higher education in regional society, and provide academic information through lifelong learning venues, at regional cooperation centers and affiliated libraries
(2) Through visiting lectures at regional high schools, and mock-lectures on student vists to the university
(3) Establishing a regional promotion plan that meets the needs of neighboring municipalities.
(4) Joint research with municipalities and regional companies, and outsourced research.