The Mitsui & Co. Environment Fund
Introduction to Grant Projects
INDEX="223" NAME="Research into and efforts to achieve energy self-sufficiency in Ama-chou" TYPE="活動助成," YEAR="2011年度," AREA="日本全国,中国," KIND="NPO," ORG="Sustainable Energy Forum of Japan"
Sustainable Energy Forum of Japan
Research into and efforts to achieve energy self-sufficiency in Ama-chou
Activity grant
Project Description

In order to develop technology to use renewable energy and to achieve a fundamental use of this energy, both comprehensive theoretical research and compact experimental practical activities at municipalities or islands are essential. A feasibility study will be undertaken to clarify the course to take towards the achievement of energy self-sufficiency in Ama-chou in Shimane Prefecture. Specifically, regarding the energy mix and other issues, research group activities in Tokyo, as well as local research and coordination, and research and studies into the establishment of investment associations will be carried out. Within 3 years there will be a blueprint of the path and small-scale experiments.
Fields

Energy problem
Grant year

FY2011 Activity Grants
Grant term

3 years
April 2012 - March 2015
Grant amount

12,600,000 yen
Activity region

Oki-gun, Ama-chou, Shimane Prefecture, Japan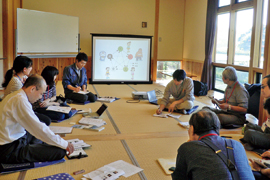 Overview of the Organization

Representative

Toshihiko Gotou, Director and Project Leader

Establishment

Established October 2000, became an NPO in January 2002

Establishment Purpose

Amid the growing issues of global environmental problems and resource depletion, the importance of corporate involvement in CSR is increasing. Efforts aimed at the creation of a "recycling-oriented society" backed by an advanced social and economic ethical viewpoint, as well as drastic measures to deal with global environmental problems are both urgently needed. This project was established so that business people and citizens could work together in environmental protection; and members of academia, think tanks, industry, political circles, the public sector and the general public could come together to clarify their responses to global environmental problems, their strategies and the process by which they achieve them, to make an intellectual social contribution on an international scale.

Main regions of project activity

Tokyo, Ama-chou

Staff

3 full-time members, 37 part-time members, 220 full members

Annual operating budget

7.77 million yen in 2009, 10.93 million yen in 2010, 8.45 million yen in 2011

WEB site

Affiliated organizations

NPO Sustainability Forum Japan, Megurinowa Co., Ltd.

Recent activities

Systematic collaborative research using the above-mentioned methodology and methods, surveys and symposia to disseminate information and present awards, etc., so that "Economy-Ecology-Ethics" can come together and a sustainable management philosophy can be established, social education, and the creation of systems to train environmental specialists. In the sustainable business diagnostic business, a system that mainly rates the environmental policies of companies listed in the first section of stock exchanges in terms of the three axes of their corporate governance, their environmental response and their human rights response has been completed and offered to many corporations that represent Japan. We are conducting research and supplying information about the possible future of Japanese energy policies as a result of the introduction of renewable energy.