The Mitsui & Co. Environment Fund
Introduction to Grant Projects
INDEX="205" NAME="Revival of traditional crafts and local specialties in Otsuchichou, and formation of new regional communities" TYPE="活動助成," YEAR="2012年度," AREA="日本全国,東北," KIND="NPO," ORG="Machi Tsukuri Gurutto Otsuchi (NPO)"
Machi Tsukuri Gurutto Otsuchi (NPO)
Revival of traditional crafts and local specialties in Otsuchichou, and formation of new regional communities
Activity grant
Project Description

In order to build a sustainable society while promoting reconstruction activities in Otsuchichou of Iwate Prefecture, an area that suffered severe damage from the Great East Japan Earthquake, we have established a local products center with a hands-on workshop. While interacting with local producers, we will broadly introduce the traditional crafts and local specialties of Otsuchichou both inside and outside of the town. In addition, these activities will also be conducted for the purpose of creating new attractive local products in Otsuchichou under the initiative of local residents, and to shift from a passive form of support to the formation of independent living environments.
Grant year

FY2012 Activity Grants
Grant term

1 years
April 2013 - March 2014
Grant amount

6,000,000 yen
Activity region

Otsuchi Village, Kamihei District, Iwate Prefecture, Japan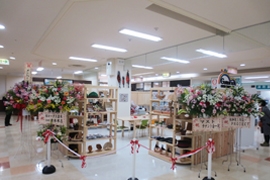 Overview of the Organization

Representative

Mikio Komukai, Managing Director

Establishment year

2001

Establishment purpose

We promote partnerships among local public bodies, academic research organizations, companies, citizens of each region, and NPOs in an aim for the realization of region-driven easy-to-live in environments and information-based societies. The NPO was established for the purpose of contributing to the building of communities that offer abundant and secure living for all regional residents by ensuring that regional residents can benefit from information-based societies without discrimination and improving social welfare through cleaner environments and the expansion of preservation, welfare, and social education programs.
While all of our office assets were lost as a result of the Great East Japan Earthquake, we resumed activities from August 2011 with the primary mission of supporting disaster victims, and we are currently conducting activities aimed at promoting local traditional culture, carrying on culinary culture including local cuisine, and the creation of new communities where mutual assistance in living among town residents can take root.

Main activity areas

Otsuchichou, Kamihei District, Iwate Prefecture

WEB site

Main activities

(1) Promoted increased income for disaster victims through requests for the creation of handicrafts and sales promotion activities
(2) Support the livelihoods of disaster victims through sales at costs of vegetables, food products, etc. at temporary housing using two mobile sales vehicles. Also offered emotional support at the same time through broad communication with town residents during mobile sales.
(3) Information was broadly communicated to town residents through means such as the issuance and delivery of a town newsletter, the utilization of a disaster FM project at the request of the town, and PR on living and government information, and reconstruction and community building.
(4) Held events such as sutra copying and karaoke, and created opportunities for interaction with town residents for town residents that had been separated from their social groups since entering temporary housing.