The Mitsui & Co. Environment Fund
Introduction to Grant Projects
INDEX="173" NAME="Contributing domestic wood products and offering the LEAF environmental learning program" TYPE="活動助成," YEAR="2012年度," AREA="日本全国,東北," KIND="NPO," ORG="Green Santa Foundation (NPO)"
Green Santa Foundation (NPO)
Contributing domestic wood products and offering the LEAF environmental learning program
Activity grant
Project Description

In response to the damage from the Great East Japan Earthquake, we donate domestic timber to nursery schools, kindergartens, and elementary schools for the supplies needed for learning. Goods made from wood from the three prefectures of Tohoku is donated, and this contributes to regeneration of the forestry industry and the creation of employment in the Tohoku region through the utilization of lumber mills in Tohoku. We offer the LEAF environmental learning program while communicating to the children that the products have been made from wood from the Tohoku region. We work together with local communities through this hands-on program for the purpose of providing an understanding on the roles and values of forests.
Fields

Preservation of surface soil and forests
Grant year

FY2012 Activity Grants
Grant term

3 years
October 2012 - September 2015
Grant amount

7,200,000 yen
Activity region

Three prefectures of Tohoku (Fukushima, Miyagi, and Iwate), Japan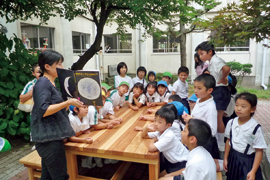 Overview of the Organization

Representative

Shoko Ito, Managing Director

Establishment year

2006

Establishment purpose

In Japan where there is a low lumber self-sufficiency rate despite having a high proportion of forests, because many forests are not used or properly managed, there are issues such as blighted trees due to the lack of sunlight and a decline in biodiversity. Our foundation is based on the concept of "Giving an abundantly green future for our children!" and its purpose is to develop human resources with a sense of responsibility towards the region and the future by putting into practice environmental learning program and creating forests where these programs are possible.

Main activity areas

Japan, overseas

Number of staff members

5 volunteer staff members, 10 full members

Annual operating income

22.27 million yen in 2009, 36.62 million yen in 2010, 20.66 million yen in 2011

WEB site

Main activities

We are engaged in nature education projects and forest development projects in order to achieve the principles behind our activities. In order to educate children that will lead the future on the roles of forests, we focus on encouraging an interest in forests and thinking about the environment by donating goods made with domestic timber so that children have an opportunity to touch and feel domestic timber. At the same time, we offer the LEAF environmental learning program that is based on forest education in Scandinavia in order to deepen the understanding of children on forests and the environment.