The Mitsui & Co. Environment Fund
Introduction to Grant Projects
INDEX="183" NAME="Slow Village Children's Kingdom Project" TYPE="活動助成," YEAR="2012年度," AREA="日本全国,東北," KIND="NPO," ORG="Society for Women's Education and Leadership (NPO)"
Society for Women's Education and Leadership (NPO)
Slow Village Children's Kingdom Project
Activity grant
Project Description

This project aims to create a base and living environment in natural woodlands of Aikawa River, Miyagi Prefecture and demonstrate the formation of self-sufficient smart communities centered around people living together at an evacuation center at Ishinomaki High School who are voluntarily working together and supporting each other. Specifically, diverse members of the local community will work together and complete the creation of a community base. An awareness survey will also be conducted on the people involved in reconstruction to see how the formation of new communities (= presumed families) verified at the evacuation center was conducted while living together with the natural environment. In addition, the project will also construct a Slow Village Children's Kingdom that takes advantage of the opinions of children who suffered from tsunami damage, and also attempt woodland conservation activities, food self-sufficiency through vegetable farming and rice farming, and the use of renewable energy utilizing resources such as timber from forest-thinning.
Grant year

FY2012 Activity Grants
Grant term

1 years
October 2012 - September 2013
Grant amount

3,840,000 yen
Activity region

Ishinomaki City, Miyagi Prefecture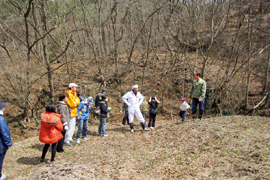 Overview of the Organization

Representative

Mitsu Kimata, Director

Establishment year

2001

Establishment purpose

The project aims to shift to a sustainable society that places an emphasis on values. Examples include shifting Japanese society from a society based on economic supremacy to a society based on social, environmental, and economic harmony, shifting from homogeneity to diversity, shifting from competition to harmony by utilizing women that had not been able to sufficiently participate in Japanese society up until now as a source of vitality, ensuring that the participation ratio for men and women is 50-50, and ensuring that both men and women are able to perform to the best of their ability.

Main activity areas

Tokyo, Iwaki-shi, Fukushima-ken (Organic Cotton PJ)

Number of staff members

14 part-time staff members, 124 official members

Annual operatubg budget

4.32 million yen in 2009, 6.6 million yen in 2010, 16.15 million yen in 2011

WEB site

Main activities

Holds research meetings and symposiums based on the theme of promoting a work-life balance and diversity.
Holds month exchanges and study meetings (JKSK Salon) with members and guests (held 82 times up to now).
In 2009, established the JKSK-WE Fund and commenced cooperative projects with the Asian University For Women (AUW).
Following the Great East Japan Earthquake, launched the Yuiyui Project from May 2011 to enable the women leaders of Tohoku to think about reconstruction activities together, and conducts support, cooperation, and assistance. It holds a Round-Table Exchange Meeting on-site once every six months, and it has implemented at least 10 projects for resolving issues.