The Mitsui & Co. Environment Fund
Introduction to Grant Projects
INDEX="182" NAME="Preservation of cherry trees on the Negawa Green Tract" TYPE="活動助成," YEAR="2012年度," AREA="日本全国,関東," KIND="NPO," ORG="Jushu Green Network"
Jushu Green Network
Preservation of cherry trees on the Negawa Green Tract
Activity grant
Project Description

While there were cherry trees growing along the Negawa River before the development of the Negawa Green Tract in the southern part of Tachikawa City, the strength of these cherry trees was in decline. This project aims to develop citizen groups that will proactively implement activities through the formulation of a cherry tree conservation plans and conservation activities, etc. Specifically, a green workshop approach will be employed to encourage proactive activities by citizens groups. This is an approach that focuses on participation, hands-on experience, and cooperation by providing programs related to greening and interchange to participants, improving the awareness of participants towards activities, and ultimately encouraging citizens themselves to devise and plan activities. Through these activities, we hope to complete cherry tree conservation plans and form communities.
Grant year

FY2012 Activity Grants
Grant term

3 years
October 2012 - September 2015
Grant amount

1,328,000 yen
Activity region

Tachikawa City, Tokyo, Japan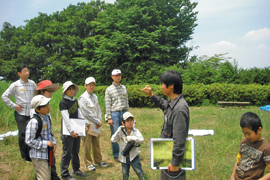 Overview of the Organization

Representative

Fumio Matsuoka, Director

Establishment year

2003

Establishment purpose

This organization was established for the purpose of developing vibrant communities that allow people living in urban areas to come in contact with an abundant and green living environment and have interactions with other people and a green environment, achieving sustainable living environments that are friendly towards people and the world, and fostering group-living culture.

Main activity areas

Tachikawa City, Hino City, Kunitachi City, and Itabashi Ward of Tokyo City, etc.

Number of staff members

1 part-time staff member, 20 full members

Annual operating budget

1.53 million yen in 2009, 1.02 million yen in 2010, 1.19 million yen in 2011

Collaborating organizations

Natural Environment Academy (NPO)

Main activities

The project supports the creation of green communities through citizen participation with a focus on apartment complex housing. In addition, this project conducts activities that widely contribute to society through means such as regional revitalization, urban renewal, neighborhood greenery conservation and creation, and natural environment education.