The Mitsui & Co. Environment Fund
Introduction to Grant Projects
INDEX="148" NAME="Designation of sea areas in far-east Russia as critical habitats for seabirds and steps for conservation" TYPE="活動助成," YEAR="2013年度," AREA="欧州・CIS," KIND="公益法人," ORG="BirdLife International Asia Division"
BirdLife International Asia Division
Designation of sea areas in far-east Russia as critical habitats for seabirds and steps for conservation
Activity grant
Project Description

The pristine coastlands off far-east Russia serve as the breeding grounds for many seabirds. In recent years, however, development in the region has threatened the surrounding sea areas, necessitating swift action to develop measures for conservation. In the first year of its study, BirdLife International Asia Division will conduct information gathering activities on seabirds in far-east Russia to assist in the identification of important marine breeding areas (marine IBAs) for the birds in this region. In the second year, these designated areas will be summarized and published to both raise awareness of marine area and seabird conservation and develop a framework for sustainable conservation.
Grant year

FY2013 Activity Grants
Grant term

2 years
October 2013 - September 2015
Grant amount

7,176,000 yen
Activity region

Far-east Russia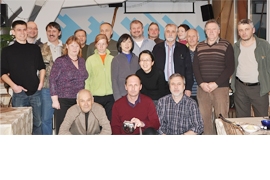 Overview of the Organization

Representative

Keiko Suzune, Representative Director

Establishment

2002

Establishment purpose

Birdlife International, headquartered in Cambridge, United Kingdom was established in 1922. For the protection of migratory birds, cross border cooperation is essential, and so the first international environmental NPO was founded. The Asia Division was set up in Tokyo in 2002 due to Asia having the largest amount of endangered species of birds facing habitat destruction. Since 2011, the organization has strengthened its activities, and aims to promote biodiversity preservation, with birds as an indicator, concentrating in the Asia region.

Main activity areas

Throughout the world and far east Russia, with a focus on Asia.

Staff

6 full-time staff members, 3 part-time staff members

Annual operating budget

33.09 million yen in 2011, 20.12 million yen in 2012, 13.30 billion yen in 2013

WEB site

Collaborating organizations

BirdsRussia

Recent activities

Conduct conservation activities in conjunction with local methods, and connect and create partnerships with bird conservation and nature organizations in each country and location to unite under a common vision and strategy. Currently, partner organizations reside in 120 countries and regions around the world. By utilizing a global network, environment conservation activities can be carried out on a wide scale, including the protection of habitats, and birds can be used as indicators of biodiversity. Along with proposals and advice based on research and scientific investigations, survey methodology advice is also available.