The Mitsui & Co. Environment Fund
Introduction to Grant Projects
INDEX="121" NAME="Camps for providing children from disaster areas with a deeper connection to nature" TYPE="活動助成," YEAR="2014年度," AREA="日本全国,東北,国際," KIND="大学," ORG="Sendai University Department of Sports Science"
Sendai University Department of Sports Science
Camps for providing children from disaster areas with a deeper connection to nature
Activity grant
Project Description

This project is carried out by a university from a disaster area with the aim of providing camps for children from disaster areas.
It involves planning medium-to long-term camps for a deeper experience of nature. Fees to join the camps are set low and camping equipment is provided, meaning children from disaster areas can easily participate.
Deepening a connection with nature in children who have become withdrawn as the result of disaster can foster a love of the natural environment.
Grant year

FY2014 Activity Grants
Grant term

2 years
October 2014 - September 2016
Grant amount

3,996,000 yen
Activity region

Minamizao Yaeijo and the Minamizao mountain region, Shiroishi, Miyagi Prefecture, Japan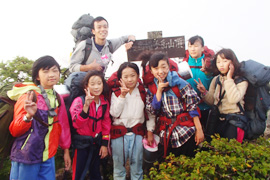 Overview of the Organization

Representative

Yoshikuchi Abe, President

Establishment

1967

Establishment purpose

Sendai University was established with a key principle of nurturing healthy individuals with the knowledge and skills to be able to fully contribute to society. The Department of Sports Science aims to cultivate individuals healthy in mind and body who can meet the diverse requirements involved in promoting sports and exercise. The Department offers a Coaching Course, Sports Trainer Course and a Sports Management Course, with curriculums aimed at producing recreational sport and outdoor education instructors.

Main areas of activity

Shibata District and other areas of Miyagi Prefecture, Japan

Staff

180 full-time staff

WEB site

Collaborating organizations

National Hanayama Youth Outdoor Learning Center's Minamizao Yaeijo, NPO Azalea, Miyagi Camping Association, Osaki Board of Education

Recent activities

Operating a practical outdoor education training facility where trainees can recieve practical camping experience, lectures following the university's curriculum, and acquire the National Camping Association of Japan's level 2 Camp Instructor and Camp Director certification. The Sports Management Course's outdoor activity research department is also conducting practical research on outdoor education through study meetings and research camps. Graduation projects involving outdoor education initiatives cultivate instructors capable at both theory and practice.