The Mitsui & Co. Environment Fund
Introduction to Grant Projects
INDEX="77" NAME="The seed revival project" TYPE="活動助成," YEAR="2015年度," AREA="日本全国,九州・沖縄," KIND="NPO," ORG="Ikema Welfare Support Center (NPO)"
Ikema Welfare Support Center (NPO)
The seed revival project
Activity grant
Project Description

The 'seed revival' project on Okinawa's Ikema Island — working to revive native plant species.
Ikema Island, part of Miyakojima city, Okinawa, is suffering from depopulation due to aging and degradation of marine resources. This project aims to help the island recover by planting vegetation, such as the coastal forests that have historically protected the island, and by redefining the significance of the natural landscape. Specifically, this involves researching native plant species and their distribution, developing communities and businesses to raise seedlings, and implementing a 'seed revival' project establishing local rules for maintaining this activity. 'Seed revival' is an all-inclusive term referring to natural resources such as native crops, trees, and wild grasses, as well as the skills and knowledge needed to process these. [Project No. K15-0057]
Fields

Relationship between People and Society
Grant year

FY2015 Activity Grants
Grant term

3 years
October 2015 - September 2018
Grant amount

8,000,000 yen
Activity region

Ikema Island (Miyakojima city), Okinawa, Japan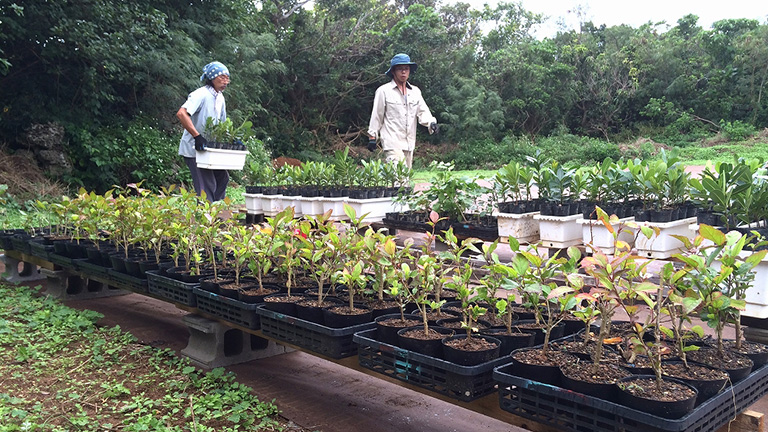 Overview of the Organization

Project organization

Ikema Welfare Support Center (NPO)

Representative

Hiromi Maedomari, Director

Establishment

2003

Establishment purpose

The Ikema Welfare Support Center provides everyday lifestyle support, nursing care support and childcare support for the elderly, people with disabilities, and children, and aims to contribute to the creation of a friendly living environment into which anybody can bring their family and interact with other community members and children (3rd article of incorporation).

Recent activities

Welfare activities for the elderly (small-scale multi-care facility, lively classes, monitoring and food delivery service, etc.)
Childcare activities (after-school program, comprehensive learning support)
Providing lodging at private-residences
Island development activities (newspaper publication, vegetation planting, reviving abandoned arable land, planning and holding various events, etc.)
Amai Umukutow project (island school, calendar creation, etc.)

Staff

17 full-time staff members, 11 part-time staff members, 35 full members

WEB site

Representative's comment

Ikema Island has many incredible 'seeds'. We want to learn about our history, people, and nature, so we can discover, nurture, and connect these seeds to create a vibrant island. We call this the 'seed revival' project.