Our roots
Visiting the birthplace of the Mitsui family
From feudal samurai commander to merchant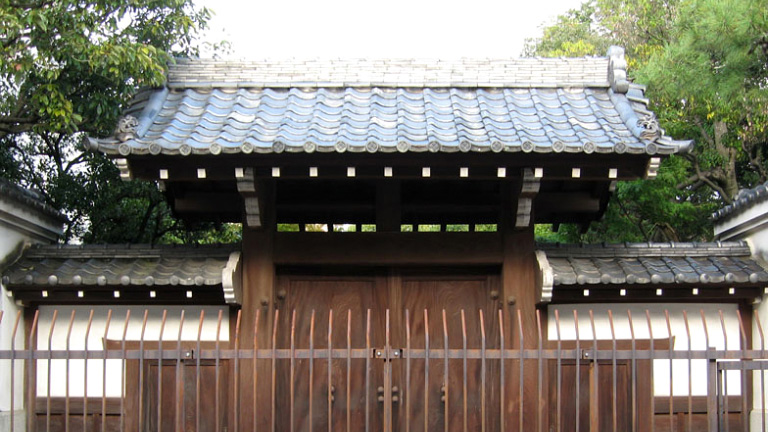 After navigating your way through the narrow streets outside Matsusaka Station and on to Honcho Dori Street, you will find a gate surrounded by white walls. The weathered roof and pillars signify the passing of time. This is the birthplace of the Mitsui family. The Mitsui family built a memorial on this site in 1932, and it has been preserved here ever since. As written on the memorial in Chinese classic texts, Takatoshi Mitsui, founder of the Mitsui conglomerate, was born here. Maintained in a beautiful garden style, this property is designated as a historical site of Matsusaka City, Mie Prefecture. The site also features a 'gorinto', or Japanese-style Buddhist pagoda, and a well that is said to be the place where Takatoshi was given his first bath as a newborn baby.
Mitsui ancestor, Mitsui Echigonokami Takayasu, was a samurai commander in Namazue, Shiga Prefecture, but in 1568, his lord Rokkaku-Sasaki lost a battle against Nobunaga Oda, which left Takayasu a 'ronin', or 'samurai without a lord.' So he moved to the area that is now known as Ise, in Mie Prefecture. Takayasu's grandson was Takatoshi. Takatoshi was born in 1622 in Matsusaka. As an adult, Takatoshi moved to Edo (now Tokyo) to help his brother's work, but returned to his birthplace at the age of 28 to care for his mother Shuho.
In 1673 he once again journeyed to Edo, where he opened a textile store in Chuo-ku, Tokyo called "Echigoya" (now known as Mitsukoshi). In 1683 he moved the store to the location of the current main Mitsukoshi department store, where he adopted innovative retail methods such as "cash basis at fixed prices" and selling products by the piece. This helped grow Echigoya into the largest textile store of the Edo period. At the same time, Takatoshi expanded into the financing business with the Mitsui Ryogaeten, a money exchange store.
The Mitsui Ryogaeten continued to expand, and around the year 1720 it was renamed Kawase Mitsuigumi (now known as Sumitomo Mitsui Banking Corporation), and its profits surpassed the textile business. The success of these businesses would eventually lead to the rise of the modern-day Mitsui Group.
Surrounding the birthplace of the Mitsui family are numerous historical artifacts. If you ever travel to Matsusaka, you might be interested in visiting the remains of the Matsusaka castle, the Memorial Museum of Matsusaka Merchants, and the Raikoji temple, which had strong connections with the Mitsui family.